Parfums de Nicolai Weekend a Deauville (2009): Fresh Chypre {Perfume Review}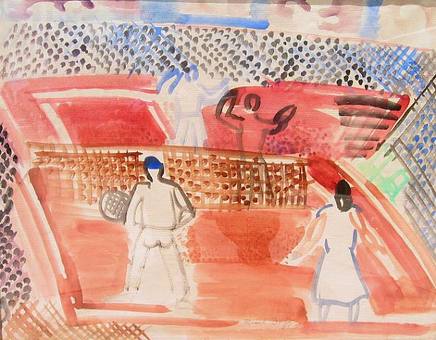 La partie de tennis à Deauville by Raoul Dufy



Since I was going to spend the weekend on the Normandy coast, I decided to take the recently launched Weekend à Deauville by Parfums de Nicolaï created by Patricia de Nicolaï with me to see how it would fare in the ambiance the perfume was reportedly inspired from. Taking a literalist olfactory approach while on a travel is the privilege of the perfume lover who might hope to see some spark set off by the meeting of a composed fragrance with the natural aromas of a locale, but more interestingly still perhaps hope to capture a side of a unique geographic location that one would not have been sensitive to without a distillation of its essence.

As it turns out, Weekend à Deauville is a chypre perfume and therefore it tends to smell by association to me more like a page from the social calendar than "...a lovers' getaway weekend in the famous small town on the Normandy coast." This is so because I usually do not find chypre fragrances to be particularly intimate by design. I do not know if you could devise a chypre that is minimally diffusive and behave like a second skin, but chypres normally sport a handsome sillage and in this projective quality I see an implicit awareness of the social circle. But this may be a bias -- it is almost certainly a bias -- coming from someone who has been accustomed to atmospheres created by skin scents as signaling intimacy, closeness, skin contact...

Weekend à Deauville offers a classic chypré structure but, interestingly, has a tendency to resolve its personality into an Eau Fraîche, or Eau de Cologne even, with this simplification of its classic chypre signature into a bergamot-laden and petit-grain-rich eau. The citruses in this perfume do not play second fiddles at all and in fact tend to have the last word.
Notes: Italian bergamot essence, petit grain from Paraguay, galbanum resinoïde, white floral bouquet, pepper essence, pink pepper, clove, oakmoss absolute, styrax balm.

The Eau de Toilette opens on citrus notes with a sober counterpoint of galbanum soon followed by warmer feral-seeming and ambery notes of oakmoss absolute and styrax. The floral bouquet that surfaces is strongly dominated by the green accents of hyacinth complete with its rubbery sweetness, smokiness and tobacco notes; the muguet is less distinct and the rose, blended in. The drydown reveals a significant hay-like, tobacco facet reminding me of Vie de Château, albeit more honeyed, and which more generally is representative of one of the Parfums de Nicolaï "special sauces". I previously critiqued the recurring base as being predictable but it is undeniably a fact of life that perfumery is very much an artisan's craft based on well-tested recipes and not just on flights of fancy.

Weekend à Deauville manages to smell elegant while being artisanal in its style. It is not one of those very precisely calibrated fragrances that could almost be rendered by a mathematical graph. The perfume is of medium complexity but the blend ultimately smells good. If there are perfumes made to be attentively contemplated with the nose, in detail, this is not one of those. In this lack of pretension I find the name Weekend à Deauville to be fitting. How hard do you need to think before grabbing a bottle of perfume to leave for a little getaway? Not much otherwise it defeats the purpose of the weekend getaway.

Before leaving I hesitated between Prada Infusion de Fleur d'Oranger and the yet-unsmelled Weekend à Deauville. I see that what I had in mind as a scent appropriate for the occasion was a perfume derived from an Eau de Cologne idea. Weekend à Deauville apparently agrees with this view.