Charlotte Gainsbourg to Front First Balenciaga Perfume by Nicolas Ghesquiere {Fragrance News} {Celebrity Perfume}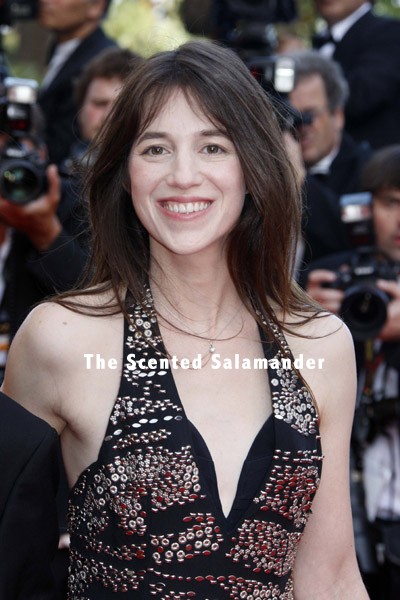 Last January we heard some exciting news from Balenciaga about a revival of their perfume brand
. As the February 2010 deadline for the fragrance launch approaches, the news have come through now that French actress
Charlotte Gainsbourg
, the daughter of Serge Gainsbourg and Jane Birkin, and most importantly the recent recipient of the prize for best actress at the Cannes Festival will be the face of the new Balenciaga perfume.
Although from a French standpoint, this may appear like a good choice given Charlotte Gainsbourg's recent exposure to the limelight and more generally her popularity, it is not exactly a mainstream choice. She earned her acting prize for a very difficult role in Lars Von Trier's movie Antechrist which contains some particularly shocking scenes. Even the audience of critics was reportedly aghast. This may explain a certain reserve you can feel in Coty's Catherine Walsh's comment on this selection. As it turns out, Gainsbourg's friendship with Balenciaga's artistic director Nicolas Ghesquière is key in understanding this choice...
Catherine Walsh of Coty Prestige said, perhaps a bit ambiguously, that it was not a commercial decision but a gesture to accommodate Nicolas Ghesquière and Gainsbourg who is also going to participate in the development process of the perfume.
"It was less about who can we get to endorse it and was more about developing a fragrance around her and Nicolas' thoughts. She is going to be involved," Walsh said. "She is so associated with the house and she has never done a fragrance campaign. For us, it was less of a commercial initiative."


On her side, Charlotte Gainsbourg couldn't be more delighted. She said,
"My friendship with Nicolas Ghesquière, our bond made of mutual admiration and complicity, grew so strong over the years that I was secretly hoping to be the face of Nicolas' first perfume for Balenciaga," said Gainsbourg, who is the daughter of French icons Jane Birkin and Serge Gainsbourg. "I have the feeling that the house of Balenciaga has become my second home."



What is interesting to note in the end is to see how much Charlotte Gainsbourg wanted to be part of the project. It is not clear whether this is in part because she is genuinely interested in fragrance or because she is so attached to the house of Balenciaga and to Nicolas Ghesquière. Interesting.
Via
WWD