Serge Lutens Fourreau Noir (2009): Biography, Memories & Longing {Perfume Review} {New Fragrance} Updated
The first remarkable aspect of the upcoming perfume
Fourreau Noir
by
Serge Lutens
that meets the eye is the interplay of brown, gray and purple shades that fade into each other in the light and make up the color of the jus which is of a rare, subtle hue. It is very beautiful and different from what appears on the picture of the flacon above and more like some of the tints in the portrait of Emily Brontë below. In this color research you feel, more than with other fragrances by the same brand, an atmospheric hint.
Fourreau Noir
due to be launched on September 1, 2009 is one of the two new creations by
Serge Lutens
with
Fille en Aiguilles
which on the surface of their stories seem to be bound by a common thread of couture reference and fascination for black found explicitly in some of the newer offerings by the house such as Serge Noir and
Five O'Clock au Gingembre
.
I would like to argue, after having myself pointed out
the couture trope before discovering the perfume
, that this level of apprehension does not yield the most meaning out of the composition at hand which would tend then to be reduced to a mere textural effect of supple velvet thanks to the rich, lush tonka displayed throughout the fragrance.
What I personally appreciate most in my experience of Fourreau Noir is its psychological depth and in particular its moving poignancy which transcends the usual Lutensian complexity. Secondly, it enables me to better understand how the vision of the non-perfumer yet author of fragrances, Serge Lutens, is distinct from that of the perfumer in the technical sense, in this case Christopher Sheldrake. This dichotomy is arguably blurry at the edges in the end especially because of the many years spent together by the two men collaborating with each other. Who is to tell how each nose now intuits what the other one wants or can say? There is no doubt however in my mind that the consistency of Serge Lutens's vision is palpable not just through the recurring palette of notes and accords that suggests in particular here immediately
Encens et Lavande
, Gris Clair,
Chypre Rouge
,
Serge Noir
, but much more deeply through his use of perfumery as a means of retelling his biography, at once relived and dreamt upon. The metaphors, the obsessions are Lutens's own.
There is also a touch of Englishness to the scent that I perceive and translate into a streak of Brontëan romanticism, perhaps Sheldrake's mark, perhaps a common restrained sensitivity derived from the English-influenced and septentrional North of France. In the two men, there is also this double contrasted biographical anchoring in exotic cultures: Sheldrake's childhood in India, Lutens's adulthood in Morocco...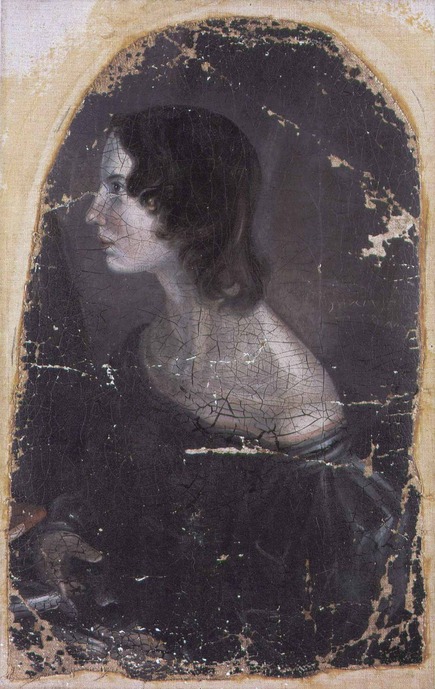 Emily Brontë

How It Smells
Fourreau Noir (lit. Black Sheath) opens on seemingly dusty (incense) resinous (myrrh, amber) almonds cooled down by lavender - a subtle and original accord made to feel even more complex thanks to hints of tart fruity dark berries, prunes and soft green crystallized angelica, to my nose. This cold and warm oriental tonka-lavender accord is darkened and deepened further by the non-sweet caramel tones of immortelle and ambergris.The perfume a little later takes on a delightful gourmandish praline overtone with hints of roasted caramel, discreetly dissonant camphor and a base of ambergris with dry herbal and solar accents that I ascribe to immortelle or everlasting flower. The longer drydown is a controlled debauchery of tonka underlined by musk. It gives off at times some secret fruity accents that add an almost chypré projection to the lush oriental. The sillage is addictive, rich and lasting.
Fourreau Noir seems to play on subtle discrepancies and contrasts rather than on clashing, bold oppositions. If I were to think of a sartorial analogy it would be more than a black sheath dress in my mind a Paco Rabanne dress made of plates of metal joined by rings flashing contrasting lights yet working as a unified smooth surface. I sense the image to be borne out of a contrast between the cool blue lavender and more skin-like amber-y ambergris linked by the caramel-y, vanillic and almond-y overtones of immortelle and tonka. There is something at once metallic, solar and supple about the scent.
As the perfume progresses it becomes more and more creamy, a bit coffee-like but always tinged with the melancholy of lavender and I am tempted to say, heather. The perfume makes me think of wild dry fields of flowers curbed by the wind in the moors (oxygenated lavender). By association I am brought to the atmosphere of a seminal place like Wuthering Heights. I could imagine something achingly beautiful, somber and desolate smelling like this perfume resonating with some distant echos of childhood laughters and the warm aromas of the kitchen releasing the gourmand accents of an almond cake baked for an afternoon treat for the children of the household. Like Angel by Thierry Mugler, the delicious accents in the scent have a dreamy childlike quality. It creates here an effect of poignancy, in this discrepancy expressed between the present and the past, the muffled, distant echo of a protected childhood (the gourmand, praline overtone wafting in the house) and the realization that there is tristesse, harshness and coldness (a lavender in the open battered by the elements).
Like
Louve
, Fourreau Noir is capable of being moving and emotional. It seems to express silently the only thing that truly matters in life, love. Perhaps Louve, I am made to think retrospectively, was also an allusion to the word "love".
Inhaling the perfume brings emotional tears to my eyes. There is such longing in it for something lost, deeply hidden in the recesses of memory, left tucked in
the corners of a house
, in the distant past. Like the inexorable passing of time, the perfume unfolds, taking us further away from a moment located in what-is-no-longer yet still gnawing and alive in its paradise-lost resonance.
I am inescapably reminded of a biographical detail pertaining to Serge Lutens's life. He once said without giving any added explanation that his mother had doned on a black dress embroidered with black jet beads on her wedding day, a symbolic inversion bordering on the taboo and hinting at inexpressible despair.
Once more I am thrown back to a Brontëan universe in which marriage is tinted with the gloom of tragedy lived and accepted until death silences all but the voice of a narrator.
Fourreau Noir thus is not so much to me a souvenir from Serge Lutens's days in the world of high fashion as it reveals how biography is important to giving a sense of unity to Serge Lutens's vision of the language of perfumery. Under his aegis and with the collaboration of perfumer Christopher Sheldrake his perfumes continue to weave the chapters of a personal history.
His fragrances can be seen to be like the shards of a broken mirror that he tries to re-assemble one by one or rather breaks further and demultiply into more fragments in the midst of creation so as to at once escape one's own limited self and catch a partial glimpse of one's longings and desires in it. It is a perfumery where external, textural effects hold a subordinate place and interiority is everything.
To say therefore that the perfume contains such and such note is nearly meaningless in as much as the approach is not that of a classic perfumer thinking in terms of technique, accords and materials to illustrate olfactory ideas, but that of an individual who cannot express his own longing and desires but through the silent language of memories inhabiting the present that is perfume.
In the end I better grasp that the impression of a disjointed metallic Paco Rabanne outfit made up of plates was really a metaphor for the breaking lines in our lives. It was an illustration of the fragmented aspect of our existences that we always want to try to piece together so as to approach a state of wholeness and plenitude, of love and happiness.
Fourreau Noir is not a straightforwardly happy fragrance because it bespeaks of its loss and frailty all too eloquently as well as of the vulnerability of the human heart, but it remains a profoundly delicate and hopeful fragrance in the sense that it contains in it the memory, the hope that it was once experienced if only for a brief time. It keeps the dream of happiness intact even under its lost form. To paraphrase the name and intent of another perfume by Serge Lutens, Douce Amère, Fourreau Noir is an achingly beautiful and bitter-sweet perfume.
The perfume will be available from September 1, 2009 at the
Les Salons du Palais Royal Shiseido.