Viktor & Rolf Eau Mega (2009): More News {New Perfume}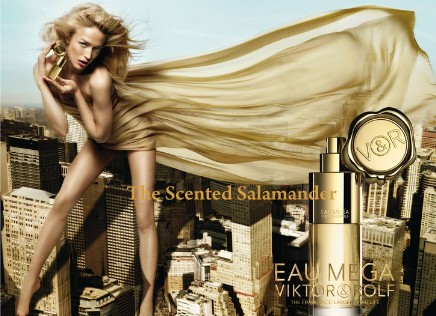 As written about previously
Viktor & Rolf
have come up with the idea of a perfume for the superwoman with
Eau Mega
. The ad which has now been released features model Raquel Zimmermann. It was shot by Inez van Lamsweerde and Vinoodh Matadin. The styling is reminiscent of the ad for
Absynthe by Avon
in which a big swath of green muslin unfurls. Here it is meant to convey the message that you can be a bigger you by spritzing on some perfume,
"We wanted to express this feeling of 'megafying' yourself, like when you use this fragrance, you become the best, biggest megaversion of yourself, whoever you are,"...
According to
WWD
,
"We wanted to create a big perfume that had the quality of freshness and fluidity of water," said Ladan Lari, international managing director of Viktor & Rolf Fragrances. So there's an aquatic entry with green notes, such as violet leaf, green basil and pear.
"The 'mega' part is about the flowery heart," continued Lari. There, notes include peony, sambac jasmine and Italian primofiore lemon. "And then, it finishes up with something very warm, very creamy and enveloping," she said, of the cedar, cashmere wood, sandalwood and white musk notes. "As always, Viktor and Rolf wanted contrasts. So the perfumers came up with something very cold at the start that finishes up with a warm end."