Faith Hill Parfums (2009): More News {New Perfume}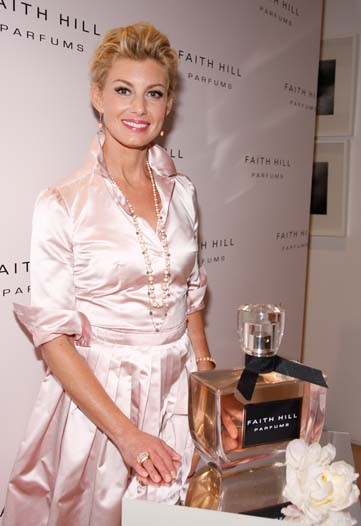 Country singer
Faith Hill
says she feels beautiful in the scent she created with Coty.
As previously announced
, this fall Faith Hill, her debut signature perfume will be launched at mass retailers. The singer hopes this is only the beginning of her venture into the world of fragrances under her own label "
Faith Hill Parfums
." Since her husband Tim McGraw is also working with Coty on his own portfolio of colognes, a marital duo might be in the works in the future.
Celebrity fragrances imply different levels of involvement on the part of the people putting their names on the bottles of scent. In this case, it appears that Faith Hill took a resolutely hands-on approach as she underlined that she could not imagine her name being on a scent that she did not create (with the creative and technical help of perfumer
Caroline Sabas
of Givaudan)...
"I'm pretty picky when it comes to fragrance -- I don't wear a lot of it, and I haven't worn a lot in the past. I wanted to be able to create this scent, to be involved with the lab, choosing the notes, and everything. Talk about an awakening as to how it's all put together -- the subtlety and difference that one drop can make. I wanted it to be clean and sensual, but last for a long time.


Her favorite perfumes so far have been two scented body lotions: Narciso Rodriguez Musk and
Jo Malone Red Roses
. As a Southerner though she wanted to add the lure of magnolia to the composition. Like Tim McGraw's
Southern Blend
and Reese Witherspoon's
In Bloom
perfumes to be launched this fall too, Faith Hill's scent pays homage to her roots.
"I wanted a Southern magnolia somewhere in this scent," said Hill, who grew up in (as it turns out, appropriately named) Star, Mississippi. "As a Mississippi girl, there's nothing more intoxicating to me than the smell of a magnolia. It's one of those scents that just fills the air -- and it brings back so many memories from my childhood. That was one note I really wanted. We put it in the middle, so it's not overwhelming. And a flower that I'd smelled in my life, but really didn't know that much about, was neroli -- of course, it ended up being the most expensive ingredient."

Other favorite additions to the juice were peony and crisp pear, said Hill, speaking like a seasoned perfumer. "To calm everything down on the bottom, we added a little bit of cashmere musk and a little vetiver, so when it dries down you have that pleasing warmth," said Hill. "It took a little while to get here, but I'm so pleased with what we created. I feel beautiful in this scent."


Notes are: Top notes: aromatic crisp pear, neroli and pink peony; the heart notes are: southern magnolia, jasmine and gardenia; base notes: cashmere skin musk, iris and smoky vetiver.
The collection includes eaux de toilette in three sizes: 0.5 oz. for $17, 1 oz. for $24 and 1.7 oz. for $31.
Via
WWD