Reese Witherspoon In Bloom (2009) {New Perfume} {Celebrity Fragrance}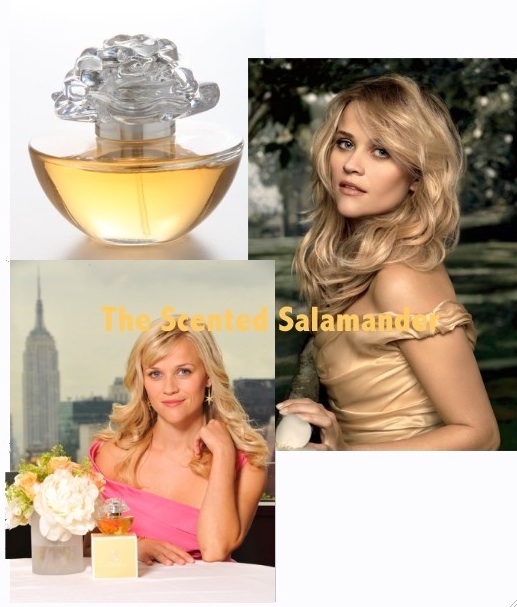 After having acted as a perfume spokesperson for
Ungaro U for Her by Avon
, actress
Reese Witherspoon
will launch her first signature perfume in November 2009 with the same company. It's called
In Bloom
, which might be a bit confusing to some as a previous
In Bloom by Avon was released in 2007 faced by actress Salma Hayek
. The perfume does not appear to be listed on the Avon site anymore though so it looks like it was discontinued and the name recycled as it happens sometimes....

In Bloom by Reese Witherspoon is an evocation of the Southern scents of white flowers. Reportedly, the actress gave quite a bit of personal input to the fragrance development process,

"I was really drawn by white flowers to get that sense of a steamy night somewhere in the South," she explained. "Definitely gardenia is a big thing for me because my father -- every Mother's Day or on my birthday -- would buy small bouquets or corsages for my mother and I. And my mother always wore beautiful white-flower perfumes, so as a young girl, that was my idea of femininity." ....

Isabel Ryan, Director of Avon Creative Development said,
"Reese was the perfect partner on the fragrance - she was fully involved in the whole process from the development of the juice and packaging to the fragrance name. I logged many miles flying between NY and LA to work with her to make sure the end result was a true reflection of Reese's style."


And guess what, Witherspoon's own daughter nine-year-old Ava helped her mom choose the ingredients that smelled most like her to her.
The fragrance:
Top: Georgia peach, tea leaves and crisp greens
Heart: Star gardenia, magnolias and night-blooming jasmine
Base: cashmere woods, hypnotic florals and amber wood crystals. 


"In Bloom will be available in two sizes: A 1.7-oz. eau de parfum for $34, and a 1-oz. limited edition concentrated version for $59. A body mist, body lotion and shower gel also will be available for $15"
Via press release and WWD