The Body Shop White Musk White Hot Summer/Ete Tropical (2009): Undefinable Sweetness {Perfume Review} {New Fragrance}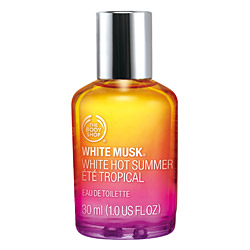 White Musk White Hot Summe
r /
Eté Tropical
(Tropical Summer in French) is the latest entry in
The Body Shop
library of white musks inaugurated in 1981 with
White Musk
. In the recent past the franchise has been reactivated with the creation of distinctive flankers (see
White Musk for Men
;
White Musk Intrigue
;
White Musk Blush
) and ancillary products. This summer we have yet another twist on the basic concept and I have to say that I was surprised by how good it is.
In contrast to the extrovert sunset-in-Acapulco-Escada-like bottle or the scrunchy-for-teens first impression, the perfume betrays a remarkable sense of subtlety and is a precisely calibrated composition in the genre of the "veil" fragrances that are particularly popular in the United States, but also have become
acclimatized to countries like France
...
The veil fragrance is a perfume-pop-culture ideal in America and this was well expressed by Sarah Horowitz with her perfume called "Perfect Veil".
White Musk White Hot Summer
is described by the brand as being "floral musky ". It is also "
A sparkling floral fragrance with a delightful White Musk® base that oozes summer sensuality.
" An important part of its appeal is that it incorporates ylang ylang essential oil from the Comoros which is listed as the key ingredient. The ylang is never overbearing but softens the whole composition in an undefinable, universally sensual manner.
The Eau de Toilette never smells cheap despite its modest price-point. This is one of those mass-marketed perfumes that smell better-quality than some more upscale perfumes. It successfully avoids to go in the direction of the harshness of detergent musks. It does not smell like candies. If I paid a $100 for it, I would expect more richness and intricacy within the composition but I would still be satisfied with the level of subtlety that could advantageously be compared to that, say, of Metalys by Guerlain selling upwards of $200. It is a wonderful alcohol-based rendition of the drugstore musk oil, that iconic item on a par with pop sodas and chewing-gum packets.
If you are looking for a sweet and soft musk fragrance which wears close to the body and has subtle fruity and floral overtones fading into abstraction, this is it. Even the musk note itself benefited from the same treatment and is not characteristic as in ready-for-a-date-tonight but blended-in, emerging as a single note only in the very far drydown the next day. I could see a busy mom wear this, an office worker who does not want to overwhelm colleagues, just as well as fresh-faced teenagers.
People who love a sense of undefinable sweetness, one that is hard to pinpoint but nevertheless consistently there as an effect, can take note of this charming whisper-y and discreetly exotic fruity-floral musk that is less beach fun and more abstract art.
A 1 oz. bottle is
priced at $17.50
. White Musk White Hot Summer is a limited-edition.
Top notes:
pink pepper, bergamot and violet leaf
Middle notes: rose, carnation, heliotrope and orris
Base notes: sandalwood, musk and vanilla