Faith Hill to Develop Signature Scent with Coty {Fragrance News} {Celebrity Perfume}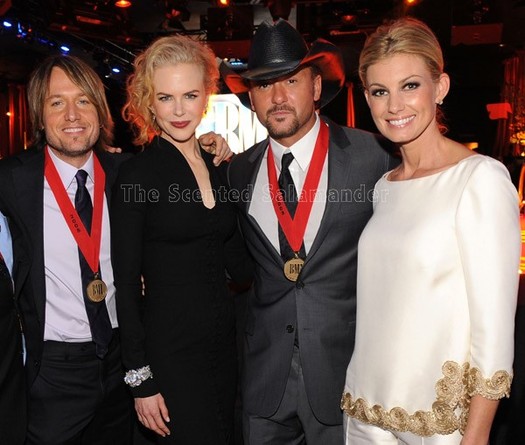 From left to right, Keith Urban, Nicole Kidman, Tim McGraw, Faith Hill on November 24, 2008 at the 56th annual BMI annual awards in Nashville. All the folks here have had their names attached to a perfume (Kidman to Chanel No. 5), except Keith Urban: Keith, what are you waiting for? You obviously need to jump on the bandwagon! © RDiamond
Singer and actress
Faith Hill
is to follow in the footsteps of husband Tim McGraw by launching in her turn a signature perfume in the fall of 2009. After having reportedly offered continuous input during the creation process of hubby's men's cologne named
McGraw
, the number 1 bestseller in men's mass-market stores currently, she progressively warmed up to the idea of launching a fragrance of her own.
She said about her fragrance-developing philosophy for women,
"A fragrance is part of what a woman wears, fashion that is 'visible' to the sense of smell," she continued. "A scent should remind one of a place, a time and a person...a pleasant memory. I am inspired by my travels around the world as well as my home. These experiences have made a mark on my style in what I wear, my surroundings (home decor) and the perfume I choose."

Coty is also contemplating bringing the two portfolios together in the future, more in the line of the Beckhams's project (see
here
and
here
), but it could just as well be a unisex scent embodying the married couple, as Tim McGraw suggested.
Steve Mormoris of Coty said,
"We do believe in their value as a couple with longevity, and their love would resonate very well with fragrances for him and her," he said. "They both have very established individual identities, as well, and we're going to explore those first. It's been great to see Faith working on this project -- she has an ability to meld a sense of sophisticated luxury with the roots of country music, as the 'new country' artists do."
Coty is a believer in celebrity fragrances and as the world fragrance leader, is making sure this belief gets translated into reality. See for example,
Halle Berry et al
.,
Renee Fleming
,
Jennifer Lopez
,
Sarah Jessica Parker
,
Ewan McGregor
...
Via
WWD