Delle Grazie Paris Rouge Chapitre 1 (2008): "The Scent of Diamonds" {Spotlight on a Brand}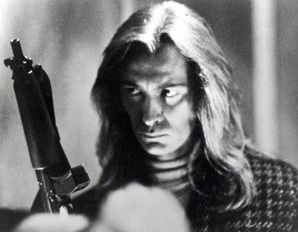 Delle Grazie
is the brainchild of Dr. Hans Buringer or Buhringer presented as a prominent biochemist, inventor of the Unsuit, a tan-through bathing suit, and a former actor in Die Hard where he was Fritz (seen on the right) now turned director. Delle Grazie is a reference to an aristocratic family who was powerful in 15th century Venice.
Paris Rouge Chapitre 1
is the first installment in a series of 7 perfumes that will retell the story of an extraordinary woman perfumer in turn of century Paris, at other times also living during the art deco period (never mind, Delle Grazie is not stingy with historical references). The scent is infused with lithotherapeutic properties (like
Shock by Rubino Cosmetics
) thanks to treated and infused diamonds. And this is only the tip of the iceberg because Paris Rouge has even more stories to tell than that. May I say that this is the most unbriddled, over-the-top (but fun it's so out there) advertisement for a perfume that I have ever read?
Paris Rouge, "The Scent of Diamonds", is the worlds first magical perfume by Delle Grazie, infused with energized diamonds during the maceration of the fragrance, by the secrete principles of Leonardo Da Vinci, to create the perfume's positive charge of hope, love and peace ...


In addition, inside every flacon a tachyonized crystal amalgamates the amplified vibes of the scent with the aura of the woman; So that the scent of no two women will be alike. Paris Rouge Eau de Parfum, Chapter 1, is the first of seven chapters for women, and tells the tales of a young female Parisian perfumer at the turn of the century, with a secret and abilities beyond the senses.


Paris Rouge's base notes are a rare mixture of oils, Sandalwood, Tonka Bean, Skin
Musks, that form the visceral element of sensuality, which at the heart of the scent is being
reined in with Rose, Jasmine and Transparent Floral, for sensibility, and elevated at the top of
the note to a spiritual finish of Bergamot, Freesia and Heliotrope selected for Vanessa Modely, by
Robertet. Transparent Floral blossoms are immersed individually by hand in oil in order to win the
absolutely pure and intensive aroma essence. This exquisite form of manufacture guarantees a unique
perfume sensation with an irresistible attractive force.


The story, in brief,

A poor painter, during the Parisian art-deco-era, falls immortally in love with a young parfumeuse, with
extraordinary abilities. "This woman is beyond comparison the most beautiful that he had ever seen. If he had to
select a gift to equal her charm, her innocence and her radiance, it could only be a diamond. Nothing else would
reflect all facets of her fascinating beauty ..."


A 85 ml bottle is priced at $98. More information available at
Delle Grazie