Nanette Lepore Nanette (2009) {New Perfume}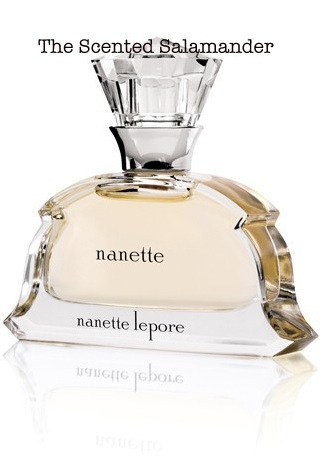 Nanette Lepore
will launch a new, more "grown-up" fragrance in September called
Nanette
which is meant to be the signature perfume of the brand. It was developed by Elizabeth Arden and created by perfumer
Anne Flipo
of IFF. The composition evolves around floral, ambery and woody notes and is said to have an "original" personality. The designer said,
"My fashion has evolved over the years, and so have I. I wanted to create a fragrance which symbolizes my current design aesthetic. This fragrance is intended to be the signature Nanette Lepore scent -- it's the one I will still be putting on, over and over, next year and the year after that."...

Top notes are spicy pink pepper, glazed rose petals and neroli; heart notes are rose absolute, violet and muguet; base notes are amber, incense and warm cedarwood. "The touch of violet, said the designer, is a wink at her 11-year-old daughter's name."
The retro-inspired perfume bottle is directly inspired by an antique find of Lepore's in a curios store in Venice which to Nanette Lepore's mind perfectly captures the romance of the city and Italy. The flacon then served as inspiration for the fragrance.
"The collection includes eaux de parfum in three sizes, a 0.25-oz. rollerball for $18.50 and 1-oz. and 2.5-oz. sprays, $48 and $68, respectively. A 3.4-oz. lotion, $40, also will be offered. "
Via
WWD