Fresh Black Tea Age-Delay Eye Cream (2009) {Beauty Notes} {New Beauty Product}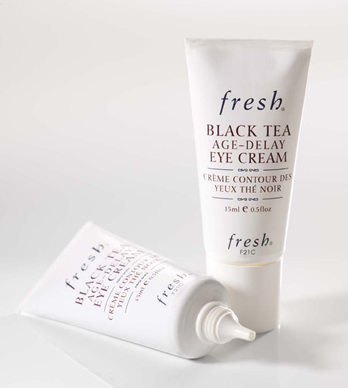 Fresh
has introduced a new eye treatment cream called
Black Tea Age-Delay Eye Cream
(Crème Contour des Yeux Thé Noir). It comes after the award-winning Black Tea Instant Perfecting Mask and Black Tea Age-Delay Cream with collagen boosting lychee. The latter got an award from Men's Health which tells us ladies that guys dig it...
The new eye-cream is not just about skin care but offers also an instant brightening effect. It is scented with rose flower and cucumber flower oils to soothe your mind as well as your delicate eye area. In general, people seem to report a high index of satisfaction (check out the reviews on Sephora) noticing immediate effects while there appears to be a risk of allergy due to the use of natural oils.
From Fresh,
"BLACK TEA AGE-DELAY EYE CREAM calls upon the powerful antioxidant and enzyme inhibiting properties of black tea to firm and smooth the eye area. It is scientifically proven to visibly reduce the appearance of fine lines and wrinkles, soothe puffiness, and alleviate dark circles.
- Smoothes, firms, and hydrates the eye area
- Helps maintain elasticity and firmness
- Stimulates collagen growth
- Diminishes dark under-eye circles and reduces puffiness
- Instantly illuminates the area "
Here's the run down on the key ingredients,
"- Black tea extract defends against wrinkle-causing free radicals and maintains the skin's elasticity and firmness.
- Lychee seed extract stimulates collagen growth.
- Blackberry leaf extract preserves existing collagen and elastin.
- An active complex of peptides and antioxidants diminish dark under-eye circles and reduce puffiness.
- Hyaluronic spheres hydrate, smooth, and firm the skin.
- Illuminating microspheres instantly smooth and illuminate the area.
- Rose flower oil and cucumber flower extract hydrate and soothe, while providing a natural soothing scent."
A 15 ml/0.5 oz. tube is priced at $65. Available at fresh.com and sephora.com