Bath & Body Works American Grown Collection (2009) {New Bath & Body}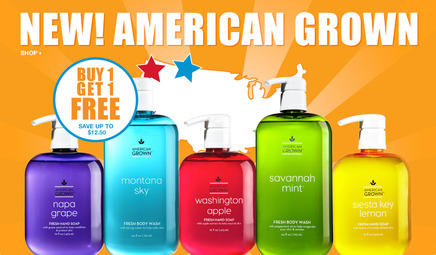 Bath & Body Works
have released a new collection of shower gels and hand soaps in five different scents inspired by iconic geographic locations in the States. The scents are called
Napa Grape, Montana Sky, Washington Apple, Savannah Mint,
and
Siesta Key Lemon
.
Napa Grape
contains grape seed oil, of course, but is also perfumed accordingly,
In the beautiful rolling hills of Napa Valley's rich wine country, the alluring scent of ripe grapes wafts through the air. Breathe in this irresistible fragrance and experience the intoxicating aroma that has inspired generations of romance...

Montana Sky
is, well, blue and reported to have soothing properties thanks to the spring waters it contains,
No one who's ever breathed the fresh mountain air of Montana-Big Sky Country-will soon forget its clear, crisp quality. Experience this fresh, airy fragrance, inspired by the vast beauty of an endless blue sky.


Washington Apple
is said to be enriched with apple extract to nourish the skin,
In the fertile valleys of Washington State in America's far west, growers tend orchards that produce the world's most beautiful and delicious apples. Experience this juicy fragrance and remember your first bite of a shiny red apple, an unmistakably crisp flavor.


Savannah Mint
has peppermint oil and will help invigorate,
Part of the old-world ambience of historic Savannah, Georgia, comes from the cool, refreshing scent of mint that fills the garden air. Breathe in this exhilarating fragrance and experience the romance of southern charm and gentility.


Siesta Key Lemon is inspired by the scent of Meyers Lemons,


Nothing says summer like fresh-cut Meyer lemons from Florida. Sweeter than other lemons, they are plump, smooth-skinned and an unmistakable dark yellow. Experience this sparkling citrus fragrance, a scent that has refreshed the air of Siesta Key for over a hundred years.


The shower gels are $12.50 and the hand soaps are $7.50. You buy one, you get a free American Grown.