Paco Rabanne 1 Million: The 18 Carats Edition: You Must be Kidding Me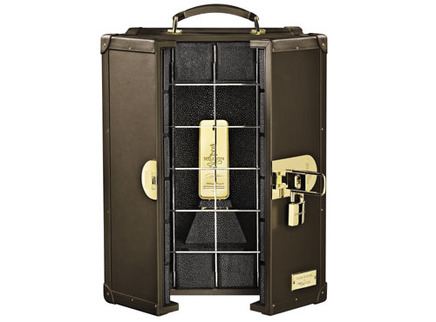 To fête the popularity of its masculine fragrance 1 Million, Paco Rabanne has decided to launch a luxurious limited-edition suitcase containing a flacon of the cologne covered with 18 carats gold and inserted with a 0,3 carats diamond (yes, it is not solid and they don't say what metal is underneath the gold). The travel suitcase decorated inside like a bank vault with its own lighting is covered with galuchat. There are three drawers for your 3 refills...
I could never imagine how 1 Million could suscitate such worshipping behavior that anyone would want to acquire this over-priced item (a thin layer of gold, a teensy diamond??) for 40 000 €, but obviously some people are having fun and giving the raspberry to the recession while waiting for the 1 Million fanatic with deep pockets to show up...wait, could these two last terms really go together?
The coffret is made upon order, so don't hesitate to ask for improvements on the quality.
Via
Fashionmag.fr