Burner Balm Lip Balm {Beauty Notes - Lips - Body} {New Beauty Products}
I did not imagine that I would find a beauty product that is meant to work both for your lips and body, but
Dr. Allan Kurtz
came up with it so let's see what it claims to do. Kurtz's brainchild developed by
Pacific Shore Holdings
is a lip Balm which contains ingredients targeting weight gain issues. The
Burner Balm
literally claims
it burns fat
thanks to
Hoodia Gordonii extract
which is an effective appetite suppressant,
Green Tea extract
which stimulates metabolism,
Chromium Picolinate
which acts on the metabolism, helps build muscle and increases energy level,
Natural Caffeine
which helps with calorie control and
L-Carnitine
which helps prevent fatty tissue buildup. On the
website
, they explain that you have to be a little restricted in its use, because apparently, it works,...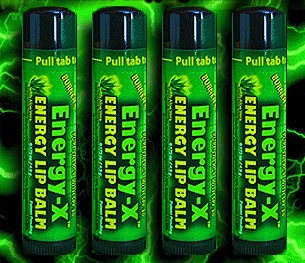 "If you are feeling tired, apply Burner Balm... If you are between meals and feel an urge to snack, apply Burner Balm. Best used on naked lips or apply under lipstick.

You can use the product throughout the day when needed 4 to 6 times daily. Some of our testing has people putting it on hourly, so it's safe!

It's not recommended to use the product at night due to the Natural Caffeine and Green Tea Extract, which could keep you awake.

The product has been developed by multiple doctors with a safe formula for patients who have repeatedly had low energy levels and are having problems controlling their appetite between meals. Burner Balm is a revolutionary new product, proven effective to boost energy, suppress your appetite and burn fat."...

There is a whole range of Burner Balms made with soy oils and shea butter in different flavors such as pomegranate or Açai Berry which have SPF 15. The two latest products are
Energy-X
and
Performance-X
.
Energy-X has an extra softening agent with Aloe Vera and has an improved SPF formula at SPF 30.
Performance-X supports muscle growth.
It just now launched in the UK where it has ignited the
flames of controversy
over the obsession about weight loss and the fear that younger women in particular might be vulnerable to this kind of extra demand put on them.