Kat Von D Saint & Sinner (2009): Nice Girl in Tattoos {Perfume Reviews} {New Fragrances} {Celebrity Scents}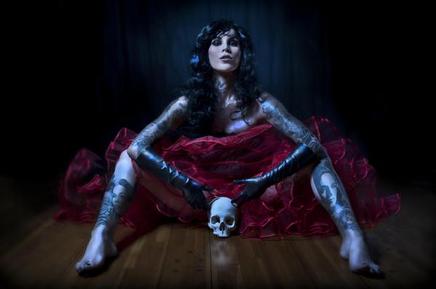 Saint
and
Sinner
are the two new perfumes by "indie" brand
Kat Von D
for
Sephora
(the name is short for founder's name Katherine von Drachenberg -- the von Drachenbergs have a family castle in Germany that would look outstanding in a Gothic vampire story). The tattoo artist of TV-reality-show-Miami-and-L.A.-Ink fame also came up with a makeup collection that was on the shelves a little earlier than the scents. I had watched several shows of one of the city-based Ink series once but could not remember the Kat von D so it was an innocent approach to the beauty counter on my part.
I then became
very
interested in the brand, because, frankly, her lipsticks are of superior quality, let's not mince our (kind) words here. Her
Stiletto
, a beautiful, perfect red-orange, was like a beacon of luminous red when I first set my eyes upon it and later just felt like
foie-gras
for the lips (it's a compliment). Sensing the demanding standards and beauty smarts of the belle, this made me hopeful for her, then, upcoming fragrances.
They could only be interesting, was my belief, unless she had been completely hijacked by cynical fragrance developers (insert a cartoon strip here as the whole brand atmosphere has a gentle counter-culture and rebellious side to it) and did not know a thing about perfume. The queen of tattoos did mention her vast beauty closet where everything is organized by product and color, but no perfume collection. She also said that she knew a thing or two about lipstick because she virtually possesses them all, the Chanels, Diors etc. When time came to spring into action, she turned easily into a lipstick critic...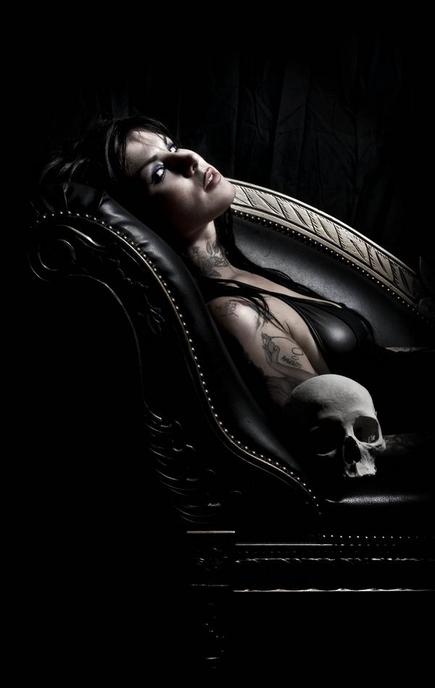 I could not really find any meaningful quote about perfume from her, except that she seems to wear perfume, and thus had to be content with her brief characterization of Sinner as being sexy and about the darker side of vanilla.
Saint and Sinner are the results of creative indecision: Kat von D explained in a video interview on
her My Space page
that they could not make up their minds one way or the other and decided to create two different fragrances although the initial project only called for one. Despite their loaded names, the scents are reassuringly described by von D as simply one for the day (Saint) and one for the night (Sinner). Ever the simple practical gal despite her extreme-beauty preferences (she says she is tattooed at 75% and plans more tattooing), she also suggests layering the virtuous one with the sinful one.
There are both good surprises in Saint and Sinner, and some obvious whiffs of commercialism as well, especially for Saint, the prettiest and most pleasant of the two. At one level, Saint can appear to be just a jasmine version of Lovely by Sarah Jessica Parker (which is already very heavily indebted to Narciso Rodriguez for Her edt for its existence) and Sinner, a synthesis of some of Comme des Garçons quirkiest notes with Femme by Rochas. You cannot call them "lazy" fragrances however, put out just to make a quick buck. There is application in them, quirks, ideas and even a certain level of risk at being disliked for Sinner. They come across as having been infused with some of the personality of Kat von D. They are not boring.
Saint and Sinner hold two main surprises for me. First, these are not linear scents. They really do unfold overtime and what you smell at one stage is very different from what follows next. This goes counter-current with the general attitude of wanting to seduce customers quickly with the top notes and then not really developing any narrative after that initial hook. Sephora can probably be faulted for having contributed to this type of attitude towards fragrance -- zapping quickly through the shelves and paper strips -- so it is all the more positive and unexpected in my view that Kat von D for Sephora made the choice of taking time to reveal the personalities of their scents. Bravo! Perhaps Kat von D herself has enough of a loyal following based on her own personality to make this choice sounds reasonable to everyone involved. Secondly, the Sinner composition in particular takes the risk of smelling weird or even borderline unpleasant, which would be expected normally given the symbolic of the name, but they did not have to be that serious about it. But they did. Instead of putting, say, a vodka accord with hints of hot chili pepper to suggest the flames of the abode of wrongdoing, they went for something grayish and non-pretty in the top-to-middle notes. Saint, likewise, is a pretty serious-minded study on the color white. I do not mean to say that these perfumes are groundbreaking in terms of the grand art of perfumery; they are not. What they do is that they re-utilize known formulas and invest them with a distinctive personality.
SAINT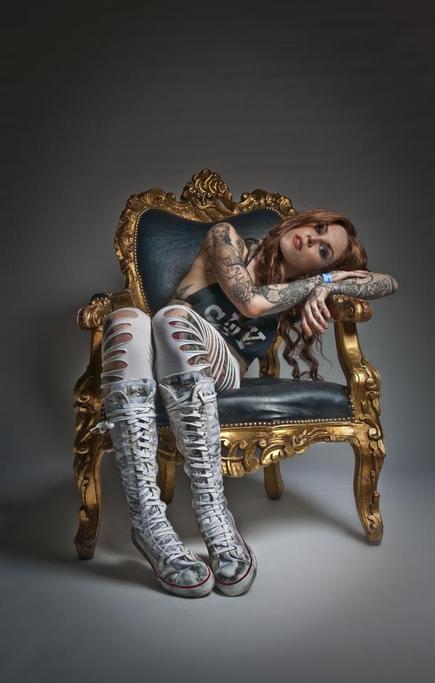 Saint Notes
Top notes are sweet nectar of Mirabelle Plum, sparkling juicy mandarin; heart notes are exotic, heady Tiare flower and sweet, tempting caramel, velvety floralcy of jasmine; base notes are sensual vanilla, creamy musk and sandalwood.
Initially I think that this smells like the new it-fragrance for young women, i.e., the rose-patchouli-caramel-vanilla standard, and so it smells, a lot, like déjà vu. It is unmistakenly in the genealogy of Lovely by Sarah Jessica Parker but with time reveals a marked jasmine facet that makes it appear like a noteworthy twist for people who like Lovely, and there are many of them. It also evokes
Fancy by Jessica Simpson
for its lactic, candied-caramel-ambery facet but also with more jasmine in this one than in Fancy.
What is a bit different is a white rice nuance. The perfume improves when it goes more in the direction of a saintly vapor of rice. Next, it becomes more powdery white, with a frosty finish like that of confectioner's sugar but without the added sweetness. The cool, silken powder effect is a noteworthy effect. The fragrance presents plays on textures and not just smells and colors. Saint softens down, becoming almost straightforwardly milky.
Evidently, Saint has taken this idea of smelling saintly seriously and offers shared white tones translated into white perfume accords.
The scent resolves itself into a skin scent smelling of light sweet jasmine rice. The best part is when the jasmine blooms on the skin, it then becomes very floral and delicious-smelling, especially in contrast to Sinner. I have to stress that Saint in this case smells even better when you take a sniff at Sinner.
Saint has a very nice chypré projection.
SINNER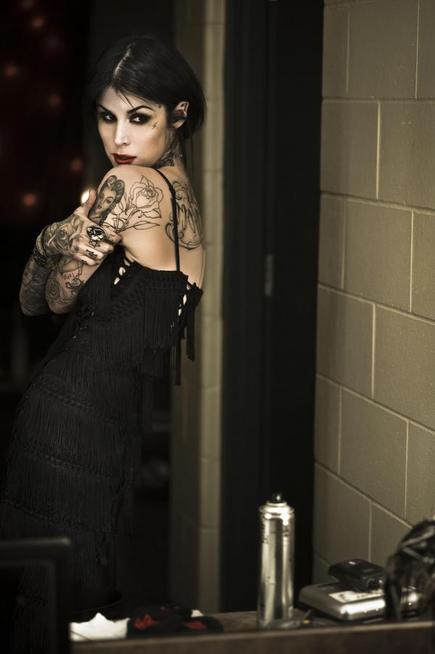 Sinner Notes
.
Top notes of orange blossom, refreshing mandarin, and fleshy plum; heart notes are rich jasmine, white-flower bouquet, spicy warmth of cinnamon; base notes are dark, earthy vetiver, patchouli, woods, creamy vanilla, sensual musk.
Sinner is more readily intriguing starting with some of the cheese-like floral hints found in
Black Orchid by Tom Ford
but with a more rubbery and candied-eraser-gum overtone. There is a fruity-vetiver accord that develops into a more jarring sensation playing on discordance and disharmonies and is a little harder to place. What is perceivable is a distinct sensation of artificial (not so much synthetic), man-made scents like vynile, smelly plastics and rubber, maybe drycleaning and even hot lint. This is where the narrative of the scent takes me. If there is a genuine attempt at describing hell or sin with this perfume, it smells like an overheated laundry room in a basement with concrete floors. I know, it is not always fun to do one's laundry but things could be worse. This passage is visibly meant to feel odd and slightly disorienting but is less pure Comme-des-Garçons style and more like the idea of a similar kind of experimental accord but folded into a base of caramel and weird plastic floral.
I think it is fair to see a moralistic message embedded in this scent. At this point, it does not smell great to be a sinner.
After this grayish, no-man's-land impression, things start looking up from the point of view of someone who does not like feeling he or she has been kicked out from the garden of Eden. A more earthly sweet purple plum appears, which while dark smells nice, very nice even. You think vaguely of Femme by Rochas, but with several degrees of separation. The weird facet, which now makes me think of the scent of the plastic limbs of a Barbie doll, mingles with the dark fruity one.
After a while an interesting dark plum accord emerges which feels like it is the color of an eggplant and very much a painterly version of a beautiful gleaming oval plum. A little later if feels like it was sprinkled with sugar, but in a good way, as the vetiver brings a dry note to the composition.
Both scents are better than I expected. I have to say that her perfumes reveal the same sense of research and of not feeling quite content with just an OK product, that her lipsticks reveal. One defect is that despite their interesting traits, the perfumes do not last long enough on the longer term. They feel like perfumes made to last 12 hours minimum but they then they thin down after a couple of hours.
If you feel more in the mood of a pretty angel, wear Saint. If you feel like wearing some very dark lipstick or nailpolishes, then Sinner is a good match.
If you feel the dichotomy, then layer them. I haven't tried to combine them but it must smell like a nice girl in tattoos.
Photo credits: My Space Kat von D; Sephora