Dior will Release a New Eau-de-Parfum Twist on Diorissimo (2009) {New Perfume}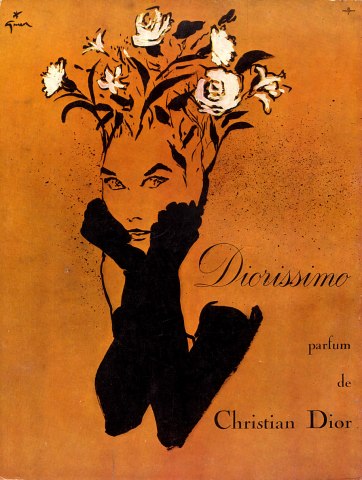 One of the big perfume news this fall is that Dior is going to release an Eau-de-Parfum version of the classic
Diorissimo
created by
Edmond Roudnitska
in 1956. The composition has experienced the vagaries of existence by undergoing a series of reformulations over the years. As I noted elsewhere, the latest form of Diorissimo Eau de Toilette has become more of a jasmine perfume than the pure lily-of-the-valley scent it used to be. I have to interject that Dior Parfums was very forthcoming about telling the truth about these non-publicized changes when asked about them by TSS last spring. I am glad that I will be able to talk about the past, the present and the future with this new version....
Currently there exists an Eau de Toilette and an Extrait de Parfum versions which are part of the collection
Les Parfums de Monsieur Dior
(The Perfumes of Mr. Dior.) to refer to the scents that were created which bear Christian Dior's personal touch.
According to the US edition of Vogue, in the September 09 issue, perfumer
François Demachy
decided to offer a new version and to rework in particular the heart of the fragrance by adding notes of blackcurrant, neroli, Turkish rose and Egyptian jasmine.
If we are to read in between the lines of the brief description given by the nose who characterizes the new EDP as a "more carnal" version of Diorissimo EDT, we will be probably further taken away from the original composition, which is not necessarily completely negative but might provoke some heartaches to devotees of Diorissimo. It might still be an improvement over the current EDT iteration, a staple spring fragrance of many French women, which presents some problems and perhaps this project shows that the issues were recognized by Dior.
In the US, the EDP priced at $72 will be found at Saks.