J. Palazzolo Son Est. 1898, a Long-Island, New-York Perfumer {Spotlight on a Brand}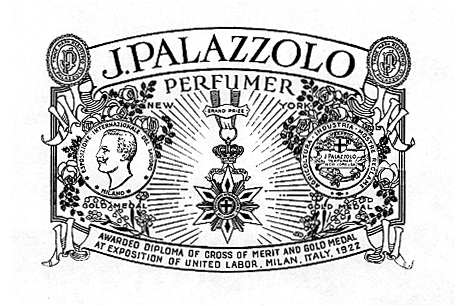 After writing about the
Krigler Perfumer house
yesterday, I was reminded of another perfume house with roots in New York which is virtually unknown not just by the larger public but by perfumistas as well, as far as I can tell. I happened on the name a couple of years ago in an article about
the perfumers of Italy
and discovered that an Italian-American perfume brand
J. Palazzolo Son
had been in existence since 1898. It was started in the Lower East Side of New York City at the end of the 19th century as a barber shop established by Joseph Palazzolo who had immigrated from Sicily in 1892; it is now located in Long Island. The business is still family-owned but as evolved into a "private formula contract manufacturing service." Without having had the opportunity to try their fragrances, one thing still comes across their online display: this is a delightfully old-fashioned label with perfumes that are steeped in romantic stories and in which the theme of love betrayed and vengeance is a favorite. Their star fragrance Contessa Azzura (1926), a spicy floral bouquet, has the resonance of a Verdi opera,
"Her eyes were the color of an Alpine sky, yet she was Italian as Rome itself. Her lover was a Captain in the palace guard...until her husband, the Count, discovered their affair. The captain's fate is best not told. As to the Contessa, the only visitors allowed her in the lonely tower room were women. No man ever again fell under the spell of those deep blue eyes..."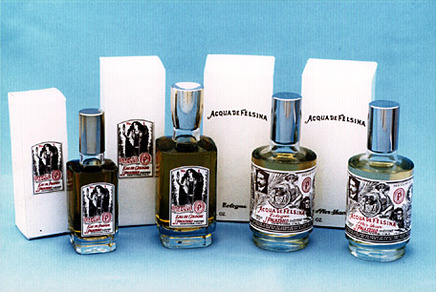 The current President Joey Palazzolo is the grand-son of Joseph Palazzalo and has taken the business over from his father Andrew Palazzalo in 1986. From 1945 to the 1960s, the brand was a cosmetics one and returned to perfume-making, compounding and fragrance-product manufacturing only then.
The company's name has been linked in the media to a
Long Island slavery case
involving two of their clients who sold perfumes to the Middle East and South Asia.
J. Palazzalo Son's current catalog comprises three perfumes. In the past, they also offered Divinia, Bacio d'Amore, Venus.
Contessa Azzura
(1926) is "A floral bouquet with spicy undertones. This formula contains jasmine, sandalwood, carnation, irisantheme, rose, ylang-ylang musk and ambergris plus the mystic essences of rare spices and refreshing citrus notes of orange, lime and lemon extracts."
Acqua de Felsina
(1926) is a "A warm, rich sweet mossy blend with accents of nutmeg and clove with a backdrop of amber-woods and musk. A chypre type scent with fresh citrus topnotes of bergamot and orange flower. The main body of this fragrance is a rich combination of jasmine and distinctive olibanum which accounts for its unusual incensey character. It's base notes include vetiver and sandalwood."
Otello
(1910) is a unisex fragrance, "A warm-woodsy-leather type fragrance with a mossy and herbaceous middle note. Sandalwood and cedar are interwoven with masculine notes of leather and spice. The dry-down notes are fresh and clean with just a hint of musk and vanilla. A rare and precious fragrance for both man and woman."
To order, you need to print out a form and mail it, the old-fashioned way.