Krigler New York City Perfumes {Spotlight on a Brand} {New Perfumes}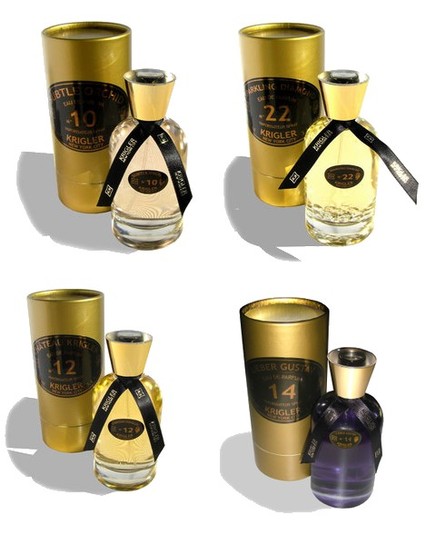 Krigler
is a New-York based perfume brand taking pride in having been established as far back as in 1904 in the city of Saint Petersburg in Russia before the torments of the revolution which led the Kriglers to take flight. The house boasts a catalog of more than 200 perfumes that were created over the past decades of the 20th century. What is a characteristic trait of the house is the geographic inspiration for their fragrances as each and everyone of them are attached to different, evocative locales in Europe and the USA, reflecting the peregrinations of the Krigler family from the Russian empire to Berlin then going through Monte Carlo, Cap d'Antibes, Paris, and finally New York. There are new creations as well inclusive of yet more exotic locales like India and Japan. Krigler
reopened this year
at the Plaza Hotel in NYC.
It is hard to gauge independently what was the history of the brand because no immediate historical records seem to have kept their name. According to some French perfumistas, they were available at the Bon Marché a couple of years ago.
Sparkling Diamond 22
is a nectar de Champagne and strawberry blend enlivened visually by the presence of Swarovski crystals in the bottle. It is a reminder of the original gesture by one of the Kriglers who once dropped a diamond in a Champagne bottle in Monte Carlo in 1922.
The numbers on the flacons refer to the year of creation of the scent it houses...
Subtle Orchid 10
is a salute to Paris organized around four main facets: "Bourbon vanilla, orchid flower, Orange, white flowers."
Château Krigler 12
recently re-released last summer is an early celebrity's fragrance said to have been worn by Royals and celebs of the era. On their Twitter feed, the brand adds that it was worn by Grace Kelly in New York city before she left for Europe. Notes are: Lily of the valley, mimosa, white musc, rose, almond, cypress.
Lieber Gustav 14
is a,
"Beautiful essence of the wild and lavish world of 1910's Germany. The fragrance stuns with its panache and intrigues with its sensuality. With its Leather notes, Black tea and Lavender. A rich and woody scent with sensual and misterious notes. Inspired by a love letter between a young women and her fiance at the eve of World War I. "


America One 31
is one of the two latest re-editions and it was reportedly offered to Ernest Hemingway who ended up wearing it.
"The First fragrance created by Krigler in New York in 1931. The eponymous fragrance, embodying the american spirit full of happiness! A Cedar vibrato with dry notes of black pepper and cumin. The energetic effect of Mandarin with voluptuous accord of Neroli and Vetiver. A mysterious, voluptuous and full of contrasts fragrance. The fragrance of the Elite."


There are many more fragrances available in their current catalog. An Eau de Parfum retails usually from $95 to $135 although Sparkling Diamond 22 is more expensive at $130 and $180.
The Eau de Toilette line offers different compositions, like Established Cognac 66 taking inspiration from the woodsy smell of an empty Cognac bottle in a globe bar in London which retails for $75 and $115.
Paid samples are available for all the perfumes.