Kim Kardashian Black Vampy Makeover by Troy Jensen for YRB {Beauty Notes} {Look of the Day} {Celebrity Beauty}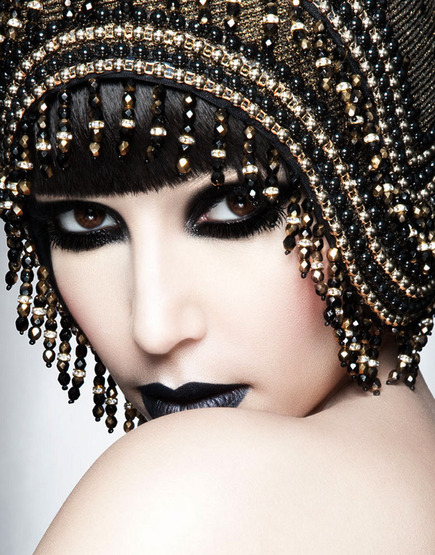 Okay, as I told you last time when looking at the
Chanel Les Noirs Obscurs
, I am very much interested in exploring - even if only through empirical observation - the really black vampy look that has been the new daring shade to sport. Daring is just fine, provided it does not transform you into a makeup victim. I am convinced it looks spectacular on a magazine spread and am still waiting for my first sighting of a normal person on the street done up in black pigments, on the lips. If it's someone with an obvious Gothic membership card, then I will be half-convinced. I really am hoping to see someone, say a fashionista, make it blend with her scarf (by the way I lately saw two extraordinary beings dressed like fashion extremists or drag queens, the second one wafted a divine sillage of Angel by Thierry Mugler, the best I've smelled so far.) But no black lips.
Onto the news. It's about Kim Kardashian's Stars-of-the-Silent-Era, Louise-Brooks inspired makeover by makeup artist
Troy Jensen
. I was interested in particular to learn how he did her black lips since the brand he exclusively used is Dior and they do not have a black lipstick out that I could remember...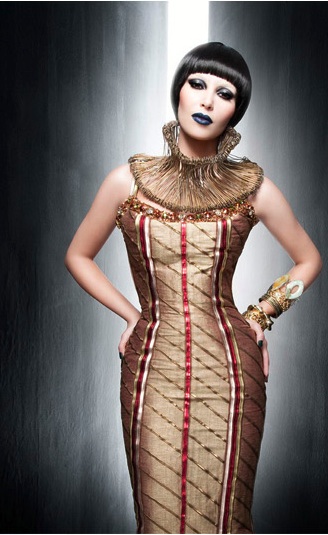 Troy Jensen explains the whole process on
his blog
, from which I am excerpting this passage,
5 STEPS TO GET THE LOOK
"1. Start with even complexion. first cover brows with a stick or cream concealer, and use a Matte liquid foundation to even out complexion. A touch of highlighter at the top of the cheek bones, down the center of the nose, above the bow of the lips, and set with a loose powder. Med to Dark skin tones, think Dolores Del Rio and Josephine Baker, and keep your natural complexion with the black eyes and lips.
2. Dust a matte bronzer to create defined cheek bones. keep the blush soft and neutral.
3. Line the entire eyes first with black eye pencil, the use a black cream eye liner of cream eye shadow to create your smokey dramatic eye soften the shape with a mix of gray,black and taupe powder eye shadows.
4. Curl and coat lashes with black mascara.
And the answer to my question about the lips:
5.
Apply a clear lip balm to moisturize lips, then line lips with a black pencil and blend with a lip brush. then set with a black,plum,or navy blue powder eyeshadow.
"
It looks like he used Dior Colour Powder Mono Eye-Shadow 275 in Metallic (Royal) Blue.