Paris Capitale September Issue Perfume Articles {Fragrant Readings}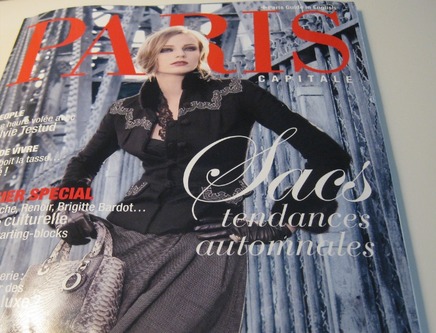 For those who can get hold of
Paris Capitale
, the magazine about Paris (which includes a bilingual address guide section handy for visitors) there are two articles on perfumes this month.
Serge Lutens is interviewed (p.60) about his tastes in teas and the way he likes to include this note in perfumery. It is part of a feature on drinking tea in Paris. He says that he sometimes likes to add a tea nuance to his fragrances like in
Mandarine-Mandarin
with its Lapsang-Souchong note, but that it is never a central part of a perfume...
He furthermore explains that being from the North of France his is more a coffee culture reminiscing about how there would always be a warm coffee pot ready to welcome guests in the warmest part of the house. When I read this passage, it made me think of how his new perfume
Fourreau Noir
seemed to betray such an atmosphere, although not knowing this detail, I ascribed this sensation to a Brontean, Wuthering-Heights-type house.
Next, there is a dossier by Thierry Billard which asks Is this the great comeback of luxury fragrances?
Haute Parfumerie, le grand retour des fragrances luxe?
(pp. 66-71). Frédéric Malle, Kilian Hennessy, Serge Lutens, Jacques Polge and Mathilde Laurent are interviewed on the topic.
Photo credit: mimifroufrou.com