Take The Red Eye This Fall 2009 -- Part 1: Makeup Launches {Trend Alert} {New Beauty Products - Color}
Red
, as we all know is more often seen on lips, relatively less often on cheeks (real red that is, like
Exhibit A
by
Nars
, say) and even less frequently on eyelids. Making up your eyes in red can be dramatic, romantic, antiquated or Goth. It's a look with historical precedents like the Geisha look, the Chinese Opera singers look, the courtly lady's look with her rouge that was applied so high up on cheeks in the 18th century that it went up to the eye level, the ethnic look like in the use of red mud to adorn the body in Africa, or the vampire/Gothic look, and more. And no, not the rabbit look.
In
Part 1
we present some of the makeup product launches this fall that have been inspired to make the color red migrate onto the eyelids. In
Part 2
, we will round up red eye makeup from alternative brands. In
Part 3
, we'll take a look at the runway looks that used red on the eyes. And how about a bonus
Series
on
Red Perfumes
?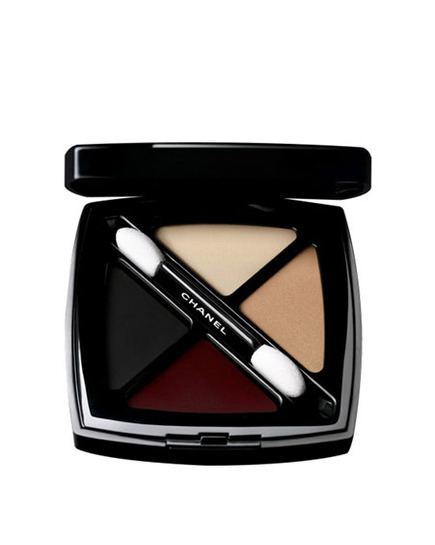 This fall we are seeing a lot of red both on the runways and in the makeup pans.
Chanel
has launched its Venetian collection and one of the most interesting items in it is the eye-gloss quad featuring a deep antique red that could also make you think of a nature morte depicting a butcher's display. This red can be both kept saturated to the point where it looks like makeup for the stage to make believe you were bruised or be worked into a more classic red look.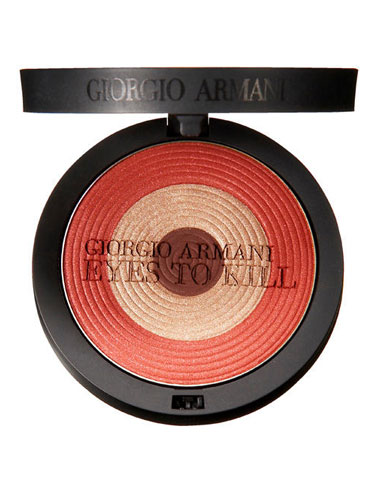 Armani
has a terrific
mascara, Eyes to Kill, in Rouge Iron
. The swatch on the Armani site does not do justice to the original color which is a rich terracotta red and makes me think most of an African color, like a landslide of red clay after the rain. It applies beautifully and although it will not make your eyes stand out as much as with a darker color, it's so luscious you want to find a way to use it to full effect. They also have the new
Eyes to Kill Eye Shadow
in
Red Iron
: 3 colors to apply at different levels of the eyelid. Isn't this a to-die-for coral-y tomato red?...

Fred Farrugia
, which I mentioned
earlier
has come up with a duo including a deep Sienna red,
Mat Terre
, paired with a pale beige color with discreet shimmer,
Neige Dorée
, a little like Chanel and D & G. On the New York runways for Spring-Summer 2010, you could see red underlined by white quite a bit.
MAC
also is seeing some red with its palette called
Fresh Cut
from the
Graphic Garden
limited-edition collection which includes a deep cranberry red (a bit redder than on the picture), which is more saturated than their
Cranberry
eyeshadow. You can also go for
Penny Ring
for a more coppery tone.
Dolce & Gabbana
have a new makeup line and in it there is room for an eyeshadow quad inspired by the colors of a volcano in eruption called
Stromboli
, with a dark red of course.

Sephora Brand
has a new collection of colors called
Colorful
that are super-pigmented and with an ingredient called Hiboost that makes the tints last and blend effortlessly.
Sephora Colorful
Mono Eyeshadow
in
Lucky Penny No. 54
is a redder than average copper tone
(bright copper brick shimmer)
.
Finally,
Thierry Mugler
has a little older eye quad called
Regard Stellaire Harmonie Rose
. There is a red in it. Even if it was launched in 2007, it still looks like it belongs to the future thanks to the galactic design of the packaging.
Photo credits: banner: flickr.com; top-kosmetika.ru; marieclaire.com; Sephora.fr; mac.com; dolcegabbanamakeup.com; votrebeaute.com