Calvin Klein CK Free for Men (2009): If This Is The Smell of Freedom, I'll Eat My Hat {Perfume Review} {Men's Cologne}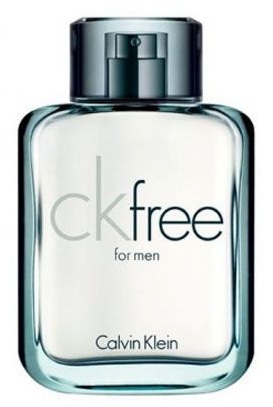 The new
CK Free
for Men
by
Calvin Klein
turns out to be a perfectly pleasant, innocuous cologne without any particular personality nor soul to it. It is co-signed by perfumers
Ellen Molner
and
Rodrigo-Flores-Roux
of Givaudan who delivered a product rather than a perfume. The eau de toilette seems to be made up of ideas borrowed from Dior Homme (a lesser dose of soft sueded iris here),
John Varvatos
created by one of the perfumers, Rodrigo Flores-Roux, and the 2007
Man by Calvin Klein
. The scent follows
the trend of fruity ambers for men
that was fresh when CK Man came out.
To paraphrase Brüno, this is sooo the first half of 2009 when all these flocked to the counters with a herding instinct.
In brief, CK Free may be sending you a message of freedom but it is not applying the message to itself, wanting desperately to not offend the largest number of people possible.
In fact, this time the brand explained that they wanted to conquer the US market as the CK fragrances are more popular abroad than at home. This results in an ultra prudent jus trying to blend in maximally in terms of its scent even if the literature surrounding it was made to convey the idea that it is oh-so-daring ...
It is such a me-too scent that at first it can only provoke silence in the reviewer. What else can I say?
I could say that CK Free is a textbook example of a soulless commercial cologne for men. I want to say, Men, rise and protest!
Even the fruity-amber aspect has been considerably toned down as if you might have difficulty with it.
The advertising campaign is nicer to look at than the scent to smell on oneself, if you are looking for a distinctive fragrance. Not that it smells bad -- that would be too characteristic -- it just smells indescribably bloodless.
Sure, the ad copy lists a luscious description of notes: Thailand star anise, jackfruit, absinthe, juniper berry, suede, tobacco leaves, coffee absolute, South African buchu, patchouli absolute, oakwood, Texan cedarwood, Costa Rican ironwood.
Where did all these exotic notes go? Back to Costa Rica and Thailand?
So, yes, there is some absinthe flashing some green in the beginning and then it's amber and fruit. I love jackfruit but I have trouble capturing its slightly rotten note; it is considerably cleaned up. At any rate, all these great-sounding notes don't hold their promise and might be there, just to make you dream, a little.
Amber, amber, fruit, fruit
A light creamy facet, from the jackfruit, might be the only homeopathic quirk I can discern here thereby confirming a trend where men's perfumes are smelling more like their sisters'. It is apparently a popularity contest of sorts. First the fruits, then
the cream
.
It is ironic, because there is this quote by model Jamie Dornan, the spokesperson for the cologne, in
Now Magazine
,
"I don't understand at all girls who are into guys who look a bit like girls - you know, guys who like taper their facial hair into bows. I really struggle with that,' he admitted. 'I mean, I shower, I ruffle up my hair and make it look like I haven't even tried when actually I've spent like five minutes and then I put a bit of CK Free on!'"


Maybe the explanation is to be found at the end of this paragraph,
"CK Free has been created to offer men an everyday escape away from the daily grind regardless of their age, ethnicity or social status. It's very democratic."

"It's very democratic" are the key operating words here and democracy, my friends, smells super diluted on the personality front. I had vaguely wondered what democracy smelled like.
They say it is an aromatic woody scent and the base reveals some dry woods.
But everything is so diluted in order to be "democratic"... it is a bit scary to see how the fragrance decision-makers view the demos. It looks like, to them, it is a big mass of gray and there are hardly any silhouettes or faces that are discernible because it is more like an immense, moving army of people attached at the hip.
Gray Wall or the Essence of Focus-Group, maybe, could have been better monikers for the fragrance.
If Man by Calvin Klein made me write the following in 2007,
"The scent teeters on the edge of too-mainstream but without falling into the cauldron marked "bland masculine scents".


I can only say that this time CK Free fell into that cauldron, big time.
To part on more positive feelings, let's take a look at the commercial ad, which feels less men-in-grey,