Isabel Derroisne Gandali (2009): Inspired by the Women of India {New Perfume}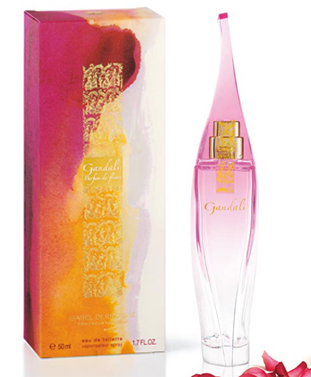 Isabel Derroisné
has launched a new fragrance for women called
Gandali
described as a "flamboyant fruity-floral". The name comes from Sanskrit Gandhali and means "perfumed" or "fragrance of flowers"; it is a girl's name in India...
The composition was inspired by an ideal vision of the women of the Indian subcontinent and is said to be "..
.as intoxicating as their dances, as vividly colored as their saris
, " reportedly in the perfumer's own words
Emilie Bouge
of Charabot (click on the link to check out the new addition to the Directory of Perfumers).
The flacon was created by famous designer
Serge Mansau
.
Notes are: top: pomegranate, passion fruit; heart: jasmine grandiflorum, jasmine sambac, rose, muguet; base: sandalwood, patchouli, vanilla.
The launch price is 25€ instead of 45€ for a 50 ml bottle of Eau de Toilette.