Sarah Jessica Parker SJP NYC (2010) {New Perfume} {Celebrity Fragrance}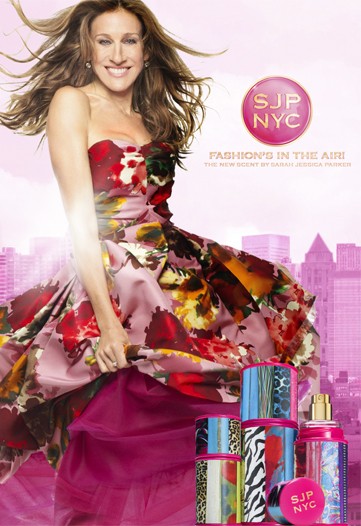 Sarah Jessica Parker
is going to go fruity, to her own surprise. She is proposing a new facet of her personality with the upcoming
SJP NYC
to be launched in February 2010. It is all intended to mesh with the New York cityscape while channelling her Carrie Bradshaw character of Sex and the City. SJP said,
"A large part of the inspiration was what I now understand to be people's impressions of seeing Carrie Bradshaw walk down the street and what feelings that evokes for her and for them -- a real sense of freedom and possibilities, a love for the city around her and, of course, fashion,"

SJP NYC was originally the dry code name for the perfume in the labs where they were developing the scent but they thought it sounded sweet enough to stay....
Those who follow SJP's olfactory life trajectory know that she is a musk girl first and foremost. This time her signature note is going to be paired amongst other things with strawberry. The actress is bemused herself,
"But the most surprising aspect [of SJP NYC] is the strawberry note that looms nicely at the top of the fragrance," Parker continued. "The reason it surprises me is because I have this idea in my head that strawberry is very youthful and juvenile, but this fragrance doesn't smell candy sweet. It amazes me that this essence of strawberry mixes so beautifully with the more sophisticated floral notes and the musks that I love and will always have as part of my fragrances. In a million years I would never think, 'Let's work around strawberry.'"

It just tells you that a note taken in isolation does not mean much. It has to make sense within a blend.
The fragrance was created by perfumer
Honorine Blanc
of Firmenich and is labeled as a fruity-floral, a category of scents usually selected for its felt easy charm and popularity. The packaging which seems to channel Christian Audigier's scent franchise to some extent also seems to tap into the same vein. There might also be a dose of Betsey Johnson style flair. The flacon represents Carrie's closet.
Notes are : top notes: Italian mandarin, white osmanthus, wild red strawberries; mid notes: gardenia, honeysuckle, mimosa and red rose damascenia; base notes: sandalwood, vanilla absolute, rum flavor and creamy musks.
It is hard to tell for sure in advance how a perfume will smell just by looking at the description of notes, but I have to say that it makes me think of possible sources of inspiration like Miss Dior Chérie, or its descendants, for its prominent strawberry note and Princess by Vera Wang for its creamy-rummy egg nogg facet.
Sarah Jessica Parker is already hard at work on another fragrance.
Via
WWD