L'Eau Serge Lutens: The Enduring Scent of Anticonformism or the Anti-Anti Perfume + The Film/ Un Parfum d'Anticonformisme qui Perdure ou L'Anti-Anti Parfum + Le Film {New Perfume} {Fragrance Images & Adverts} {Scented Thoughts}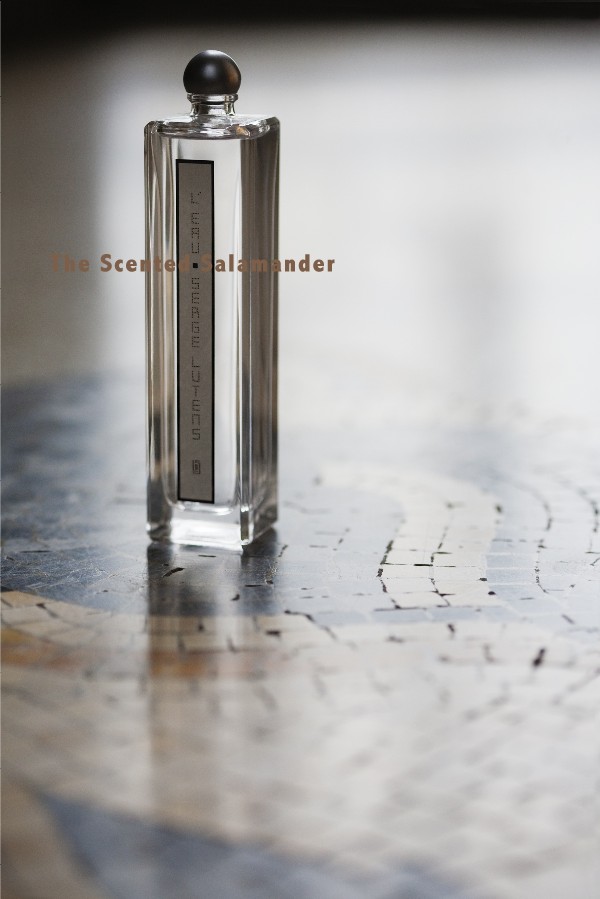 {A
fragrance review of L'Eau Serge Lutens
has been added to the blog!}
Foreword
: This is not a review. This started as a teaser, then an introduction and ended being a more developed commentary on the idea of the perfume, as I see it today (courtesy of the blog medium).
You can watch a short film that was shot for the launch of the fragrance after the jump.
*La version française de ce commentaire se trouve à l'intérieur de l'article.*
L'Eau Serge Lutens: The Enduring Scent of Anti-Conformism
or the Anti-Anti PerfumeSerge Lutens
is preparing to launch his new opus co-created by four hands or rather two noses with his old accomplice, perfumer
Christopher Sheldrake
, who is now working at Chanel. In an interview from the press release, he said,
"I wanted to create an "anti-fragrance" whose notes and impressions would create a lasting sensation of wearing a "clean" scent, not a "perfume." My intention was not to have it supplant perfume, but to help restore the original pleasure of wearing fragrance. This creation is my response to a world that is overscented... I might even say "embalmed"... in the sense that the ritual of wearing perfume is no longer about romance but part of a meaningless ritual.

L'eau Serge Lutens is my riposte. it expresses a longing for cleanliness and a reaction against society's compulsion to fill the air with artificial scents. it's like a breath of pure, bracing mountain air."

This new perfume called
L'Eau Serge Lutens
(lit. The Serge Lutens Water/Eau) is a clear departure at the theoretical level at least from the aesthetic path taken by the Lutensian perfumery on exhibit at the Palais Royal but, I would argue, not so much in essence as it is a perfumery which is intrinsically and morally motivated by an anti-conformist movement. Where Lutens's perfumery seemed to be committed without fail to a deepening of the complex Orientalist writing streamlined nonetheless by a style that is reflective, intellectualist and always a little cathartic on the personal plane, the new scent aims to stand as an iconoclastic tract penned against the outrageously perfumed air of the Zeitgeist.
Has Lutens done anything different in the past? I would argue that no, his perfumery has been an anti-perfumery from the start, based on a movement of rejection of the mold as
he has explained himself
. In a world where olfactory refinement, of which Lutens is a key figure and an exemplar for fine perfumery, is giving way to vulgarity and facile virtues, how to reorganize the universe of ideal aesthetic values?...
Too many perfumes means no perfumes at all like the deafening consequence of an explosion. What to do but to lower or shut off the sound, close the windows and take a good long warm bath while thinking about what to do next?
L'Eau Serge Lutens is incidentally and more concretely meant to prolong the pleasures of a good long warm bath. In a curious twist on the rote standard, the one that states that cleanliness is next to godliness, Lutens invites us to rediscover the basis of luxury, clean, a scent reserved for the elect. Just like white bread used to be a sign of class, while today it is the contrary.
The paradox here of course is that instead of deciding not to put out one more perfume in the world, Serge Lutens has chosen to express his ambivalent relationship to both real perfume and ideal perfume, as creators best know how to, with another fragrance creation.
There is certainly a little bit of a dialectical movement here, a pendulum swing that goes in the opposite direction of what has become a trademark signature.
I had written last year
when I heard of Ellena making a vanilla scent,
"To me, it is a little bit as if I had heard the news that Serge Lutens is doing a water/calone scent. The raw material would really need to yield to the mind of its creator, in some unseen way, and come out transfigured from the experience for everyone to be able to recognize a familiar worldview."

There was recently already a complex sense of transparency and purity that one could smell in El Attarine with its hidden ozonic facet.
The Eau SL is more than a smell-good perfume, in intention at least. It is a pamphlet against a certain corruption of the ultra perfumed mores. Something stinks in this outrageous atmosphere, according to Lutens.
"It's time for comfort, simplicity and a breath of fresh air."

This "anti-perfume" also wants at the same time to be a critique of the traditional accoutrements of seduction which are enslaving to men and women alike. There is here again another refusal, that of the perfume as an expected tool of seduction. Ladies, you are invited to cast your garter to the four winds, gentlemen, please drop you brief-cases. Both are traditional insignas of the couple called seduction-and-power where the garter happens to be the brief-case of the woman and the brief-case, the garter of the man. Free yourselves with cleanliness, minimalism, catharsis, in other words, with soap.
L'Eau Serge Lutens wishes to be sold on the Square of the Revolution or Reform with this ambiguous tag line which contains a good dose of provocation "
The most expensive soap in the world
."
The danger of anti-conformism is that it can be just a mirror object of what is refused. In other words, it reinstates what is apparently rejected. It is not different enough, it is very close to the familiar. When Sartre said he didn't want to wear a tie anymore because it was too bourgeois, he was just having the typical reaction of a bourgeois.A risk therefore is that if you discovered such a perfume without any of the background information, would you confuse it with one of the most familiar accords in the world? Could an innocent soul be confused? (Could an innocent soul venture in the Salons Shiseido? I don't know.)
Can there be a poetry of soap? Perhaps.
And I have other questions:
Is minimalist luxury really one of the last refuges of freedom? for whom and how? Will L'Eau SL truly be able to liberate us from the excesses of the perfumed flesh? In this case, are we to assume that this is meant to be the last Serge Lutens perfume?
L'Eau Serge Lutens: Un Parfum d'Anti-Conformisme qui Perdure
ou L'Anti-Anti Parfum
Serge Lutens
s'apprête à lancer son nouvel opus créé comme à l'habitude à quatre mains ou plutôt deux nez avec la complicité du parfumeur Christopher Sheldrake lequel travaille désormais chez Chanel. Dans le communiqué de presse, il répond à la question "pourquoi",
"Pour une propreté durable : odeurs et sensations ; un anti-parfum, non pas celui qui s'y substitue mais celui qui en redonne le goût. Une réaction à ce monde trop parfumé, je dirais plutôt embaumé car il ne s'agit plus de séduction mais de momification ; c'est un
rite dédié à on ne sait plus trop quoi. En revanche, cette eau est une réaction, une action, une volonté : être propre, trancher avec la fausse odeur qui règne sur tout.

Un éther des cimes."

Ce nouveau parfum appelé
L'Eau Serge Lutens
marque une rupture claire, en théorie du moins, avec la direction esthétique jusque là empruntée par la parfumerie du Palais Royal mais non pas tant que cela avec l'essence morale de cette parfumerie qui fut
d'emblée bâtie sur le terreau de l'anti-conformisme
. Là où la parfumerie lutensienne semblait s'engager inexorablement et pour toujours dans un approfondissement de l'écriture orientaliste complexe, épurée tout de même par un style reflexif, intellectualiste et toujours quelque peu à visée cathartique sur le plan personnel, la nouvelle senteur se veut avant tout être un parti pris iconoclaste contre l'atmosphère outrageusement parfumée de la Zeitgeist.
"du confort, de la simplicité et un peu d'air."

Lutens a-t-il jamais opéré autrement? Je répondrais que non, sa parfumerie a toujours été une anti-parfumerie. Dans un monde dans lequel Lutens est un véritable exemplum de raffinement olfactif, comment réorganiser l'univers des valeurs esthétiques idéales lorsque la vulgarité et la vertu facile prédominent? Trop de parfums, ce n'est plus de parfums du tout, à l'instar d'un tintamarre qui serait devenu par trop cacophonique et finalement assourdissant. Que faire, sinon éteindre ou baisser le son ou fermer les fenêtres et réfléchir à quoi entreprendre par la suite pendant que l'on trempe dans un bon bain chaud?
L'Eau Serge Lutens, incidemment et plus concrètement, est censée prolonger de beaucoup la sensation agréable d'un long bain chaud. Dans une curieuse, quelque peu déconcertante approche de l'idée courante que la propreté est comme un parfum de sainteté et comporte une mesure d'exigence réservée aux élus, Lutens nous invite à redécouvrir la base du luxe, le propre, comme à l'époque où le pain blanc était considéré comme un signe de classe. Mais c'est le contraire aujourd'hui, pour le pain.
Le paradoxe ici bien sûr est que Serge Lutens au lieu de se tenir coi et de décider de ne plus lancer de parfums dans un air déjà si saturé de miasmes, ait décidé de tenter d'assainir l'atmosphère avec une nouvelle création chargée d'exprimer sa relation ambivalente au parfum vécu tout autant qu'au parfum rêvé.
Il y a certainement ici l'apparition d'une logique dialectique, un mouvement de pendule allant dans la direction opposée d'un style connu et attendu.
J'avais écris l'année dernière
lorsque la nouvelle d'un parfum à la vanille signé Ellena tomba que,
"Pour moi, c'est un peu comme si j'avais entendu dire que Serge Lutens est en train de créer un parfum aquatique basé sur la Calone. L'ingrédient brut devrait céder à l'esprit du créateur d'une manière inattendue et ressortir transfiguré de cette expérience afin que chacun puisse y retrouver une vision du monde qui nous est familière."

On retrouve néanmoins un sens complexe de la transparence et de la pureté que l'on pouvait déjà sentir dans El Attarine avec sa face cachée d'ozone.
L'Eau SL est donc bien plus qu'une fragrance, en intention du moins, elle est un pamphlet contre une certaine corruption des moeurs ultra embaumées. Quelque chose pue dans cette atmosphère outrancière, selon Lutens.
Cet "anti-parfum" se veut être aussi une critique des afféteries traditionelles de la séduction lesquelles tentent de réduire en esclavage les hommes aussi bien que les femmes. Vous êtes invitées, mesdames, à jeter votre jarretière par-dessus les moulins, messieurs, fi des attachés-cases, tous deux insignes traditionnels du couple séduction-pouvoir où l'attaché-case est la jarretière de l'homme, et la jarretière, l'attaché-case de la femme. Libérez-vous par la propreté, le minimalisme, la catharsis, en un mot, par le savon. On remet les choses à plat.
L'Eau Serge Lutens se veut être vendue à la criée sur la place de la Révolution ou de la Réforme avec ces mots ambigus et non exempts de provocation, "
le savon le plus cher du monde
".
Le danger d'une position anti-conformiste est qu'elle peut s'annuler en étant au final que l'image-miroir de ce qui est refusé. En d'autres termes, on réétablit ce que l'on voulait apparemment supprimer. On ne cultive pas la différence vraiment car l'on se trouve au plus près du familier. Lorsque Sartre décida qu'il ne porterait plus de cravate car cela était décidément par trop bourgeois, il ne faisait qu'exprimer la réaction d'un bourgeois pour lequel les cravates comptent et sont éminnement signifiantes. Il existe donc un risque pour ce type de parfum qui est un anti-anti parfum de retomber dans l'éculé olfactivement parlant car il peut prêter à confusion pour l'innocent. (Un innocent pourrait-il s'aventurer dans les Salons Shiseido? Je ne sais.) Mais ne penserait-il pas quelque chose comme: n'est-ce donc pas là une odeur bien familière, bien évocatrice de l'accord savon propre si répandu?
Peut-il exister une poésie du savon? Peut-être.
Et l'on peut se poser d'autres questions encore:
Le luxe minimaliste est-il véritablement l'un des derniers refuges de la liberté et pour qui et comment? Ce parfum nous libérera-t-il vraiment des excès de la chair parfumée? Est-ce le dernier, en ce cas?