Eva Longoria Eva (2010) {New Perfume} {Celebrity Fragrance}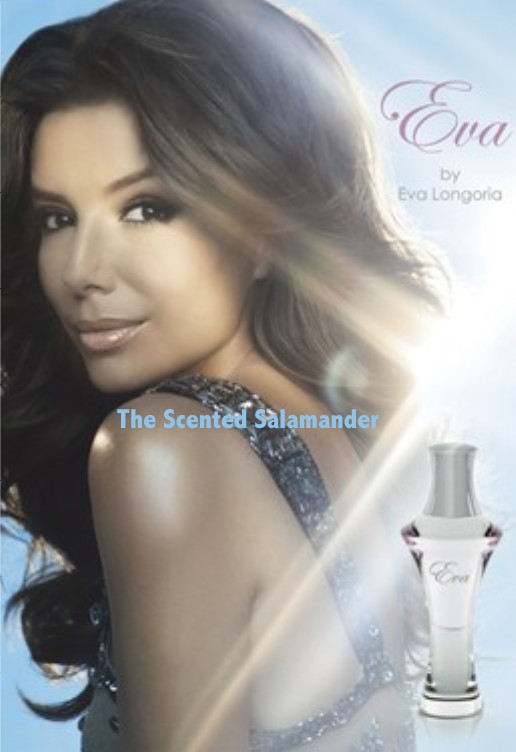 Actress
Eva Longoria
will launch her debut signature perfume in April of 2010. It is called
Eva
. The composition was developed with the Falic Fashion Group which have already tried their hand at celebrity-fragrance development with a
Daddy Yankee
cologne in the fall of 2008. It will not be part of the Desperate-Housewives franchise like
Forbidden Fruit
and a 2009 quatuor of scents by LR Health & Beauty Systems called Bree, Susan, Lynette and Gabrielle, although no doubt will benefit from it.
Eva Longoria of Desperate-Housewives fame and who is additionally married to French basketball player Tony Parker was thought to have the right international profile and appeal.
She is popular on French TV thanks to her marriage to Parker. It remains to be seen whether or not the French will cave in if only a little to the celebrity-fragrance trend to which they seem impervious...
Eva Longoria is a recent perfume convert but a long-time smell lover like
Bobby Brown
. She said,
"I have always been somewhat allergic to all perfumes and really wanted to create something that every woman could wear," said Longoria Parker. "So I decided to create my own fragrance that is light, fresh and unique. I think the scent of a woman is extremely sexy and this scent will prove that."

The brief for the Eau de Parfum was entrusted to Takasago. Longoria is reported to have worked closely with the creative team and to have put the accent on wanting to offer a perfume that smelled "different."
She acknowledged the fact that coming up with a non-copycat perfume was much harder than she thought initially.
Opening notes are
citrus, neroli, bergamot tea and aldehydes
Sustained notes are
sheer jasmine, muguet, violet and freesia
Lingering notes are
skin musk, amber and sandalwood
.
The flacon is meant, like some of its famous predecessors, such as Femme de Rochas or Shocking (and Zut) by Schiaparelli to espouse the contours of a feminine silhouette. It was designed by Wilhelm Liden at Paul Meyers & Friends and manufactured by Bormioli Luigi.
The fragrance will come in a 1.7-oz. version for $45 and a 3.4-oz. version for $58.
Via
WWD