Chloe Eau de Fleurs Capucine, Néroli, Lavande (2010) {New Perfumes}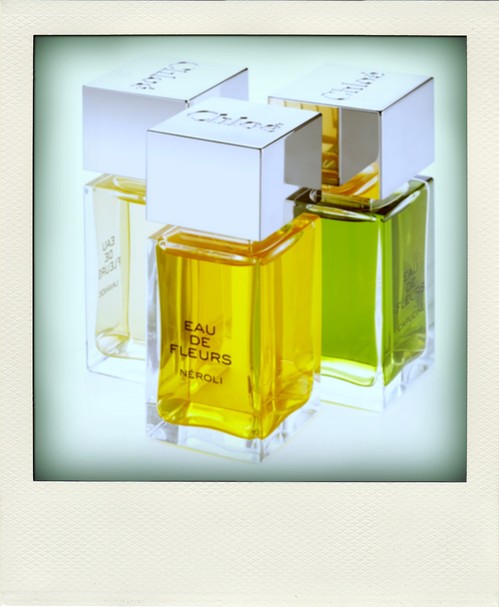 Chloé
have launched a new trio of perfumes that have the looks and smells of sophisticated splash colognes. They are called
Eau de Fleurs
Capucine
(nasturtium),
Lavande
(lavender) and
Néroli
. Capucine is a representative of the green family, Lavande seems to smell like a fresh and light oriental and Néroli is the closest to a classic variation on Eau de Cologne...
Since Chanel introduced their
Exclusifs
and Marc Jacobs launched his
Splash Colognes in 2006
, husky bottles of perfumes veering in the direction of an eau to be reapplied throughout the day have appeared more frequently, including at Hermès who have launched oversized splash bottles of their garden series perfumes.
Capucine was composed by nose
Louise Turner
, Néroli, by
Aliénor Massenet
, and Lavande by
Domitille Bertier
. All three colognes were art-directed by
Hannah MacGibbon
who said,
"Flowers have been at the heart of the Chloé brand since its creation. I wanted to offer a floral cologne collection with the highest quality materials for a return to authenticity and all that is exceptional."


Capucine offers notes of bergamot, lemon, neroli, galbanum, rose essence, absolute of rose, absolute of jasmine, muguet.
Néroli has notes of mandarin, orange, clary sage, rosemary, peony petals, tobacco, tea, tonka bean, white musks, amber.
Lavender has notes of French lavender, coumarin, violet leaves, bergamot.
Each 100 ml bottle is priced at 105€.
Via
The Moodie Report
;
Sfilate.i
t
; cosmetics international