Halle Berry Halle Pure Orchid (2010): More News {New Perfume} {Celebrity Fragrance}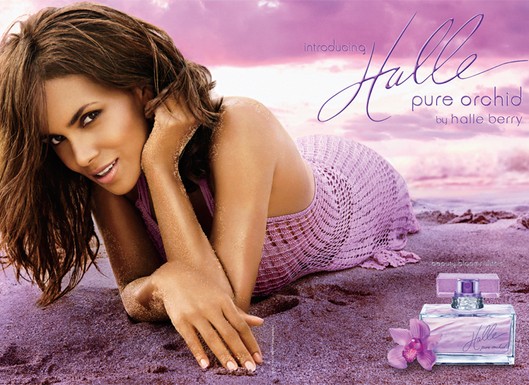 Fans of
Halle Berry
can satiate their curiosity about her new perfume a bit more today. The print advert for
Halle Pure Orchid
was released and according to
Stephen Mormoris
of Coty Beauty,
"The original Halle Berry scent was more of a gourmet juice," "Pure Orchid is more of a voluptuous floral experience."
Mormoris also explained what is the key to creating a good, successful celebrity fragrance. It implies not using the celebrity's image to mask weaknesses in the perfume itself while aiming to strike an authentic chord with the personality and identification aspects of fragrance-wearing amongst consumers (yes, we are both aesthets and consumers when it comes to perfume). The rule of thumb is thus, don't skimp on face-time and money,
"Celebrity fragrances are not dead," he said. "The celebrities may change, but identification and fantasy are alive and well." The key, he insists, is working closely with the celebrity to create a believable project, and then delivering a high-quality juice and marketing campaign. "Our mission has always been to raise the quality, so celebrity scents aren't seen as a cheaper alternative to a fashion fragrance," he said."

The bottle was designed by
Jane Tarallo
. The waves in the glass is meant to evoke the waves of the ocean.
The first countries to get the juice will be the US and Latin America in February (t was available earlier on at Walmart already). Then Europe and Australia will get it in March.
One of Halle Berry's next roles is in a movie she produced herself called "Frankie and Alice" in which she plays a woman with a multiple personality disorder. A tentative launch date was set for spring 2010.
According to WWD, her other film projects include,
"Tulia," in which she plays a Texas lawyer working on behalf of a group of local African-American men who are wrongly convicted of involvement in a drug ring, and "Class Act," a story about a Nevada teacher who enlists the help of her sixth-grade students in her Congressional campaign. All three roles are based on true stories.


Via
WWD