Hermès Voyage d'Hermès (2010) {New Perfume}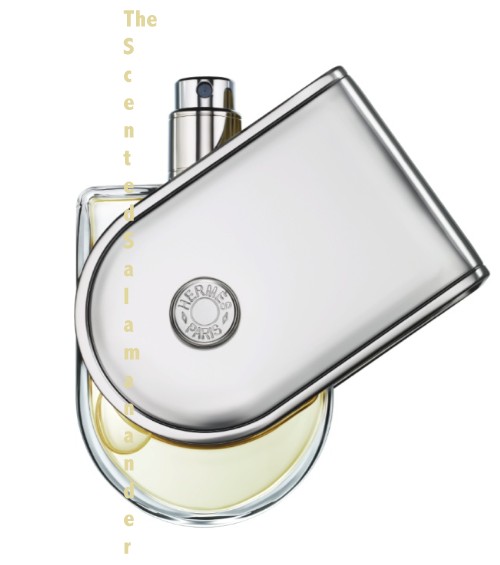 {A
fragrance review of Voyage d'Hermès Eau de Toilette
has been added to the blog!}
Hermès
will launch a
new major perfume for them
in April 2010 called
Voyage d'Hermès
. The scent is part of the group of perfumes called "
parfums-romans
" (perfume-novels) dedicated to retelling the story of Hermès's patrimony.
In a subtle evolution and interesting shift of policy of the house which had been giving extended free rein to their in-house perfumer Jean-Claude Ellena in the last year or so, they submitted to him this time a minimal one-word brief. As they put it, it is
a carte blanche with a name on it
...
The Perfume
The perfume would be called "Voyage"; he had to elaborate a composition around that theme which is admittedly less neutral than a brand-name-vehicle like Kelly Calèche which could be inhabited more freely by one's imagination and was inspired in part by the poetic prose of Jean Giono. The phenomenological theme of travel had to be interpreted this time.
For the moment being, we are given more information about the creative process than about the perfume notes themselves although Voyage d'Hermès is described as a fresh woodsy and musky fragrance. Below follow quotes excerpted from the press release which amount to an interview, with my English translation appended.
Alors, parce que fragrance et départ ont ce point commun
qui fait rêver, le sillage, un parfum est né.
Il s'appelle Voyage d'Hermès
And so, because fragrance and departure share this common point which is to make you dream - the sillage - a perfume was born. It is called Voyage d'Hermès.
« J'étais paumé, coincé, hésitant et perdu », sourit le nez.
Car si l'olfaction est déjà le plus impalpable des sens, comment
exprimer de surcroît un voyage en odeur ? Voyager
où, quand, comment, avec quel guide ?
"I was disoriented, stuck, hesitant and lost" smiled the nose. For if olfaction is already the least tangible of our senses, how could we moreover express a travel in perfume? To travel where, when, how, following what guide?
Du parfum, il rêvait qu'on dise, non pas : « Ça
me rappelle... » mais : « Ça m'appelle. »
Of the perfume he dreamt that people would say not that "it reminded them of..." but that "it calls out to me."
Il lui fallait ne pas tracer le portrait d'un homme ou d'une
femme, d'une ville ou d'un coin de nature, d'un instant ou
d'une époque.
He had to sketch not the portrait of a man nor a woman, of a city nor a corner of nature, of a moment nor an era
.
Non, ce parfum n'allait pas sentir
un bois, une fleur, une matière en particulier, mais l'inconnu
dans toute sa splendeur.
No, this perfume would not smell of a wood, a flower, nor of any material in particular, but of the unknown in all its splendor.
The Bottle
The flacon was designed by Philippe Mouquet who initially had in mind an object that would be "A no-nonsense object, sensitive, beautiful, intelligent, simple, light, clever, modern, timeless, uncluttered, unique, for him, for her, for all, forever, infinitely refillable." In a claimed departure from Baudelaire's preference for the jus over the bottle in which it is contained, Mouquet adds, "In sum, that the flacon be of import so that we could experience all of the intoxications." ( Bref, que le flacon importe, pour qu'on ait toutes les ivresses.)
The bottle is inspired by a forlorn and eminently practical object that the designer found one night as he was taking a walk under the stars. His torch revealed a slightly dented pocket magnifying glass which was extra flat and retractable in its case.
The flacon would not just be to be carried around, it would incarnate movement.
The outer casing is in the light metal, aluminium, which is also seen as ideally reflective of all colors. The shape is derived from that of a stirrup. The axis is held by a saddle nail.
The line will include an eau de toilette in 35 ml and 100 ml refillable sprays at 63€ and 90€ respectively. There will also be a 125 ml refill priced at 74€; a 150 ml deodorant spray at 28€; a 200 ml hair and body shower gel at 42€.
You can read our
review of Voyage d'Hermès
[Via press release]