Issey Miyake Will Launch A Scent Eau de Parfum Florale (2010): Floral Twist {New Perfume}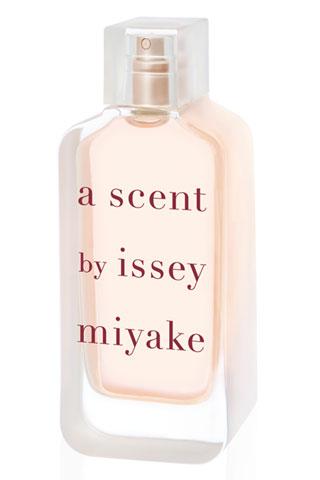 {A fragrance r
eview of Issey Miyake A Scent Eau de Parfum Florale
has been added to the blog!}
From April 15th 2010 designer Issey Miyake will launch a new iteration of the 2009 A Scent {see
review
} introduced last year as a green olfactory interpretation of nature, in particular the wide open spaces of Mongolia and Mount Fujiyama.
The composition evolves from a green fragrance to a floral one and is called A Scent Eau de Parfum Florale...
The new flanker is more than an average flanker as it is a reinterpretation. It keeps its original green facet resting on a note of galbanum extracted with a high purity level thanks to the technology called "Supercritical Fluid Extraction" or CO2 extraction but the heart and base of the fragrance have been made to feel more feminine thanks to blooms.
Floral notes of rose, peony, hyacinth, jasmine, ylang-ylang have been accentuated and/or added.The jus's appearance also evolves from a pale green to a pale pink while the bottle designed by Arik Levy (flacon) and Taku Satoh (graphics and outer packaging) remains the same.
{
Vogue.fr
}