Parfumerie Générale Bois Naufragé (2010): Perfume Translation of a Still Nude {Perfume Short (Review)}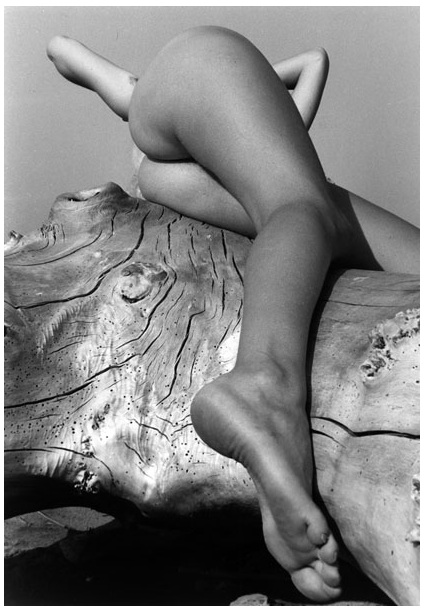 Bois Naufragé
(Shipwrecked Wood) is one of the two new compositions by perfumer Pierre Guillaume from French niche perfumery Parfumerie Générale. It is inspired by the picture entitled
Le Nu au Bois Flotté
by Lucien Clergue (1971) (see above) the founder of the photographic event of the Rencontres d'Arles, a friend of Picasso and a photographer whose themes of predilection are feminine nudes, nature, elements, but also death. He did series of carrions and dead bulls.
Notes: carob tree also called Egyptian fig tree treated as a flotsam note; salt (fleur de sel); ambergris.
On skin, Bois Naufragé opens on a mineral coconut impression quickly followed by a very, very green note feeling like an oversized grass blade as sharp as a knife. On paper, it mostly smells of a very transparent, spacious and very cold fast-ventilating note which feels like you just opened the door of the fridge and are receiving a blast of cryogenic-grade temperature. As you will see, this cold accord manifests itself differently on skin. The blotter is not the best way to experience this perfume. The lactonic coconut note, which does not smell very fig-like in my view, is paired like in Jo Malone Cedar and Lime with a lime-like note which makes the scent feel very much akin to that of Thai coconut curry, probably a result of technical constraint more than due to the will of offering a gustatory reference which would be irrelevant here. At least, it feels that way.
The mineral note of the beginning becomes less vague taking the smell-shape of large smooth stone pebbles on the beach whose smells would be released by hard-hitting drops of rain water on their dry and hot surfaces. Here, one can recognize the mineral beach accord found in
Côte d'Amour
by L'Artisan Parfumeur, which is, as I see it, rather standard as I have smelled it in home fragrance. It is of course, as we can guess, the reference to the central motif of Bois Flotté to that piece of derelict, shipwrecked wood on which a nude is lying...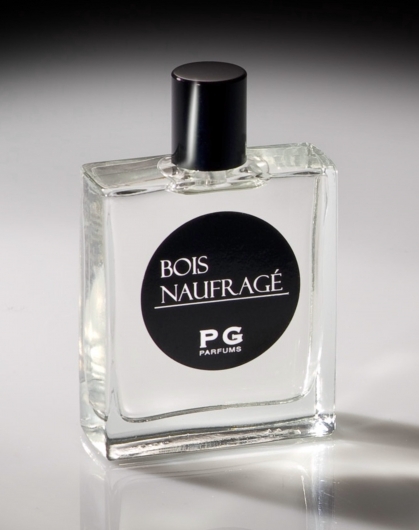 ©Lucien Clergue
I am surprised after these initial developments that there isn't more carnality in the composition to suggest the naked body. It is as if the woman's body was contemplated but left the observer cold.
Some further mineral nuances develop, smelling in the end more of wet cement.
Bois Naufragé gives me the impression of fulfilling the goal of illustrating the motif it set out to render into perfume. In a way you could say that it is a faithful adaptation of the photography by Lucien Clergue except for the passage of this giant blade of green grass in the beginning which comes from a different universe than that of the photo. Would I go as far as thinking that this green sword of a blade is a phallic symbol? Well I am thinking this thought so I may as well write it down. The photography is in black and white, the vegetal element present is dead yet beautifully polished and silken, almost golden despite the lack of pigment. This green note smells to me like a symbolic intruder who has just stepped out of the jungle at the edge of the beach, a green warrior. Is there a sexual and symbolic fantasy of wanting to give life to a nature morte, a still life with a woman in it who is immobile leaning on a tree stump emptied of its sap? Perhaps. The perfume makes me think these thoughts.
As the perfume further evolves, it leaves the photographic motif behind to blend on its own by following its own logic as a green herbaceous scent. Somehow, it seems green matters in the symbolism of the perfume more than in the picture.
While I appreciate the intent of the interpretative work here, I cannot say that I am moved by it. I would even say that the composition is singularly unruffled and the note that ends up breaking away from the motif is cool because it smells of mint.
If anything, I have to understand that the perfumer, Pierre Guillaume, found something cold in the picture too. Understandably, the woman is faceless. The tonalities of the flotsam are warm and blond and the skin of the woman tan and rather warm too, but for some reasons, mint is used, perhaps to evoke the air of the sea or as a thought-association.
Bois Naufragé seems not to be a flotsam anymore at this point. It goes in this one direction of a minty fresh note contrasted with a lightly warm, woodsy creamy base which could be the rendition of sandalwood. It is a bit salty. From the lactonic ambery drydown faintly emerges what I hope is a faint nuance of tuberose. I say hope because I realize that I am still looking for this carnal feminine note that would give more life to the scent. But I think that if it is here it is only in a ghostly fashion, as a by-product of the lactonic note.
The longer drydown smells good, a bit dewy, woody and musky-beach-y.
The perfume is bound to interest culture junkies who would wish to smell a Lucien Clergue photography filtered by the mind of a perfumer and put into fragrance notes. More generally people who are interested in the relationship of the visual and the olfactory will no doubt be curious about it.
Bois Naufragé has its enigmatic moment, but ultimately, perfumery-wise, it does not renew our sensations nor deepen them nor soothe them. It makes us follow a story line around a photographic motif, that it does. What is lacking in my view to make it a full-fledged perfume composition that one would wear for its own sake is a sense of genuine perfumery composition and creative freedom. Indeed, paradoxically, in this self-assigned creative project by the perfumer who seeks inspiration from a photography, he who is setting out not to do this for money primarily - the perfume is a limited-edition - there is too much desire to stick to its object, not enough attention to the internal life of the perfume. The perfumer gets distracted by the picture, looks too much towards it or out of the window, fiddles around for illustrative ingredients too much and doesn't look beyond its topic far enough. The photography ends up extending its own brief, mimicking a corporate honcho. I just re-read the title to my review of
Côte d'Amour
and realize that I also did a critique of the illustrative motif approach.
In the end, Bois Naufragé suffers from being a perfume translation rather than a perfume creation although it betrays interesting non sequitur green-scented and - colored sparks escaping from the perfumer's unconscious mind.