DKNY Pure (2010): More than just a Drop of Vanilla {Perfume Review}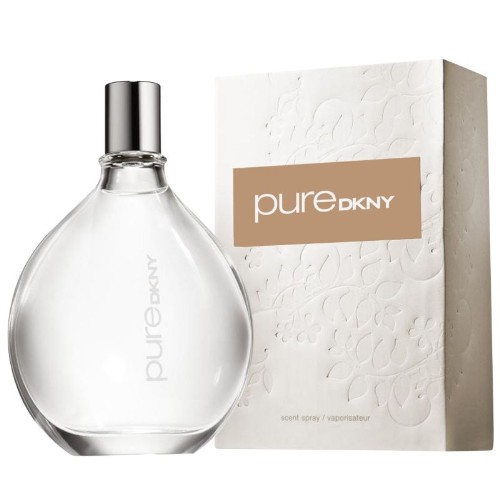 "PureDKNY speaks to the core essence of who I am and what I want to touch -- the people and children I love, and being at one with nature, It's about those little moments that bring you joy, pure and simple. Sometimes, those simple things are the hardest to find."

Donna Karan
Pure by DKNY was launched around the globe in February 2010 but won't officially launch in the US before July. According to WWD, it is a fragrance that wants to promote ethical living and the feminine condition, ideas that are embodied by a single raw material, vanilla from Uganda, which was sourced with the help of humanitarian association Care in order to help Ugandan women. "CARE is excited to partner with PureDKNY on an initiative that will support women in Uganda, while also educating U.S. consumers about the important role women play in breaking the cycle of global poverty," said Helene D. Gayle, president and chief executive officer of CARE.

The fragrance is taking for symbol of its mission "a drop of vanilla" which illustrates the idea of making small incremental differences in the world, one drop of soothing-smelling vanilla at a time.

Notes: dewdrop petal accord, lotus flower, Bulgarian rose; transparent jasmine, freesia, lush orchid; white amber, creamy sandalwood and vanilla in water.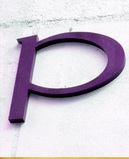 Pure by DKNY opens on a sweet note and much more tonka bean than I would expect from a fragrance called "Pure." It is actually the Ugandan vanilla note which is the central note of the composition, one that was described by Trudi Loren of Estée Lauder as offering a unique "creamy fluidity." It is not so ethereal after all. I expected a more crystalline, impalpable scent after browsing the advertising campaign featuring Angela Lindvall. Rather, it seems to pull the fragrance in the direction of a pure nursery ambiance of cuddly smells like vanilla-scented cereals cream for babies and tots but as if it were lingering on a blue woolen blanket near a bottle of baby powder and then - as it gained some intensity - could be traced back to mommy's perfume. The "tonka" which is not officially listed but could have been added to reinforce the vanilla-in-water accord is a bit mineral and "hard;" I realize after a little while that this stony aspect in my mind is one I associate with laundry-detergent-types of white musks which are not particularly subtle and seem to have been contaminated by the hard water in which they are meant to swish around...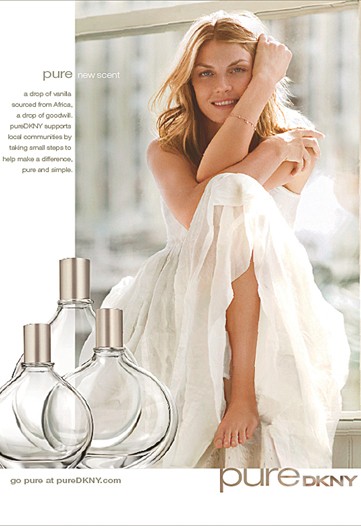 Fortunately, the scent softens down further and there is now a very faint trace of cumin, which suggests the gentle scent of sweat, a little bit as if the cumin edge of Kingdom by Alexander McQueen had been purified and creamed. Consistent with this note is an understated nuance of yellow-onion smell, which sometimes describes the typical smell of feminine sweat. It makes sense in this case when compared with the images of the advertisement which show a mother and son bonding. Smell is one of the earliest means of communication between mother and child, with sound.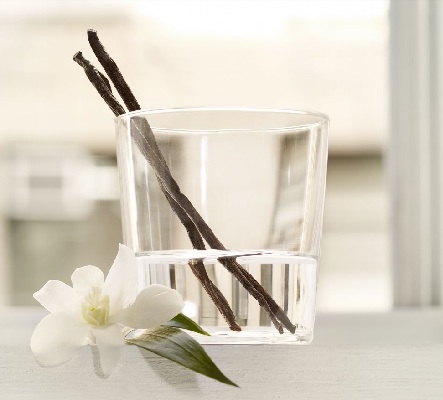 Courtesy of the DKNY Pure site

As the perfume progresses it remains quite linear but it manages to keep a nice balance between spice and cream, with a hint of saltiness. At this point I think of the creamy salty woodiness of Sensuous by Estée Lauder but sharpened and whitened by slightly more aggressive clean musks and with further transparent floral nuances. The so-called "dew-drop petal accord" brings out an almond blossom note as the one found in the eponymous L'Occitane range. In the longer drydown of the scent, there is a very pretty nuance of honey-scented meadow flowers. In the official list of notes, this "Sensuous" echo I perceive is ascribable to "white amber" and "sandalwood." As I realized afterwards, both perfumes are owned by the Estée Lauder cos.

DKNY Pure is a very linear fragrance composition and is very American-style in this sense, but it is not simplistic or crude despite the sometimes less than refined laundromat musks peeking through. There is a certain winning tenderness to the scent, a good balance between transparency, spice and vanillic cream which makes it a worthy option for people who are looking for a simple white musk or skin scent, but with something new in it, a twist in this particular category. This is to me both a creamy and transparent white woody and vanillic musk perfume. It is both sexy and gourmand. It clearly builds on previous popular scents like the feminine woodsy accord showcased in Sensuous - even what Estée Lauder calls the "feminine accord" or sweat note found in it. Pure also manages for me to ride on the popularity of the masculine fragrance 1 Million by Paco Rabanne with its tonka-bean galore, perhaps a hint in the direction of modern fathers and men. Having realized after noting down my impressions that Estée Lauder might have willingly wanted to build on the feminine interpretation that is Sensuous, I see it as a further push in the direction of subtly branding the essence of femininity courtesy of Estée Lauder by bringing it into the realm of motherhood.
The purity which is to be found in Pure Eau de Parfum refers to the mother-and-child bonding relationship and to simplicity as overall value. It is about affective purity more than about just a sensation of clean, thanks to nuances of bodily intimacy. Purity here is also about the clear-headed, clinical, spare diagnosis of the scientific mind as the perfume quite obviously draws on research on societal and human smells to create a maximum recognition effect and sentiment of quiet comfort. I would even say that the brand seems to have worked on an addictive angle for the scent which may create a bit of a theoretical tension with the purist motivations of the Pure program. DKNY Pure might be the equivalent of white noise put in perfume form, like the comforting distant echo of maternal heart-beat in the womb. To me, it is a child of the recession and the quest for stability in uncertain times. Another perfect new fragrance for Mother's Day 2010, with Violet Eyes by Elizabeth Arden.
Postscript:
In the words of DKNY's inspirational message printed on the outer packaging for the fragrance without any capital letters to signify simplicity thanks to typography (except for DKNY),
"a drop of vanilla
in a world that moves faster everyday, you need a moment of calm. to find beauty in living simply. time out for the things that are closest to your heart: love, joy, comfort. embracing relationships. creating community. pure DKNY is more than fragrance - a state of mind. a way of being. living responsibly. pureDKNY strives to take small steps to help make a difference pure and simple.
go pure at puredkny.com"
Pictures courtesy of John Lewis and WWD