Studio Beauty Mix at Fred Segal Nudité Intense (2010): "The Anti-Perfume" {New Fragrance} {Trend Alert}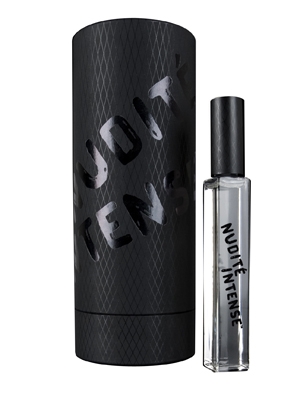 The concept of the
anti-perfume
seems to be the new trendy or cutting-edge critical thinking in town, it's still hard to tell. Even Jennifer Aniston, who comes across as intelligent by the way, managed to plug it in the celebrity fragrance category for
Lolavie
described as a "non-perfume" (there might still be a distinction with anti-perfume.) I have written a post on the
Pure White Trend in fragrances
, but I am still trying to sort out the implications of this movement and its connection to the anti-perfume concept. Please stay tuned for reviews of DKNY Pure, the latest Clean fragrances and L'Eau Serge Lutens to try to understand these olfactory ideas. This wave is of course encouraged by the societal anti-perfume movement in North-America which tries to limit the wearing of perfume in public spaces, but it has also received wider artistic credentials through art happenings such as that of
Dadadandy
and their
non-perfume called Choix
in 2007. In this vein, Biliana Velkova proposed the
Celebrity-Perfume-Mirage
concept in 2008. Long before them, arguably, there was the seminal
Belle Haleine Eau de Voilette by Marcel Duchamp
in 1921 which made do with anything liquid altogether...
Serge Lutens last fall also delivered a statement about his new "anti-perfume," L'Eau Serge Lutens. Now comes yet another anti-perfume by the creators of
Mémoire Liquide
Robin Coe Hutshings
and
Nicole Ostoya
which is out under one of their other labels,
Studio Beauty Mix
and it's called
Nudité Intense
(Intense Nudity).
Nudité Intense which launched in March 2010 is according to the ad copy,
"
A sheer, diaphanous wisp of a nude skin scent that is best appreciated in a close embrace. Ephemeral, like a gentle breeze? Sheer, clean, rain-soaked undertones with a single fresh flower bud just poking through. Irresistibly clean, barely there, nude skin. To be sensed intensely.
"
WWD adds that it contains notes of water lily, lotus and sheer musk.
It is described as "The Anti-Perfume" on Facebook.
A 0.35 oz fragrance pen retails for $48 and is available online at studiobeautymix.com
Do you have any opinions about this trend?