Will Andrews on the Creative Origin of New Perfumes, April 21, 2010 {Scented Paths & Fragrant Addresses}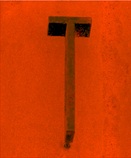 The
Royal Institution of Great Britain
will host a talk by fragrance evaluator and scientist
Will Andrews
entitled
The Science of Scent: Adventures in a Creative Mind
on
21 April 2010 from 7 pm to 8:30 pm
. The conference is open to the public and tickets can be purchased online...
The talk is part of a yearly lecture series which started in 2008 with The Science of Scent: A Feast for the Nose and was followed in 2009 by The Science of Scent: Capturing New Smells.

"Where do the sparkling, creative ideas for new perfumes come from? How are they translated into scent without compromising the creative purity of the idea? This lecture - the third in the series - covers one of the most abstract perfumery subjects: the creative origin of new perfumes. Find out what is going on inside the perfumer's mind, how it is nurtured to deliver those scented moments of true brilliance, and how the ideas are developed into tomorrow's perfume classics.
Please note that this talk is standalone and you do not have to have attended previous events in this series.
"
Tickets can be purchased
here