Afghanistan Orange Blossom by 7 Virtues: Created to Empower Women (2010) {New Perfume}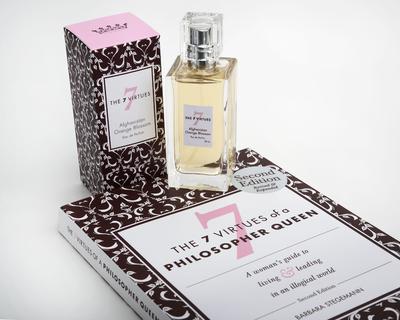 ©Glenn Brown
Canadian entrepreneur and author
Barb Stegemann
has decided to empower Afghanistan women by encouraging the cultivation of floral crops to replace the poppy crops destined to the opium drug trade. It's
not always easy
as past experiences show. Her debut fragrance in this genre of philanthropy perfume is called
Afghanistan Orange Blossom
Eau de Parfum which was made based on a crop of orange blossom she bought out. It accompanies an advice book she authored entitled
The 7 Virtues of a Philosopher Queen
...

"Enjoy the classic, Afghanistan Orange Blossom Eau de Parfum made from the licit orange blossom crops of Afghanistan. The fresh scent is mainly Orange Blossom with a soft layer of freesia and a hint of Jasmine making this scent a truly unique product in the beauty market."


Stegemann's idea is to make the scent appealing to North American women in particular, which introduces another interesting cultural variable, and thus the fragrance was tailored to their tastes. The packaging also features quotes from poets and political leaders, an inspiration which seems to have been drawn from the annual Narinj Gul (Orange Blossom) festival in Afghanistan which operates as a traditional framework for expressing social ideas through the medium of poetry.

Afghanistan Orange Blossom EDP is priced at $70; the book The 7 Virtues is priced at $24,99.

More information is available at the7virtues.com

You can read more about this venture in The Montreal Gazette...