Chanel Taps into House Symbols for New Masculine Scent while Asking Scorsese to Direct his Bleu {New Perfume}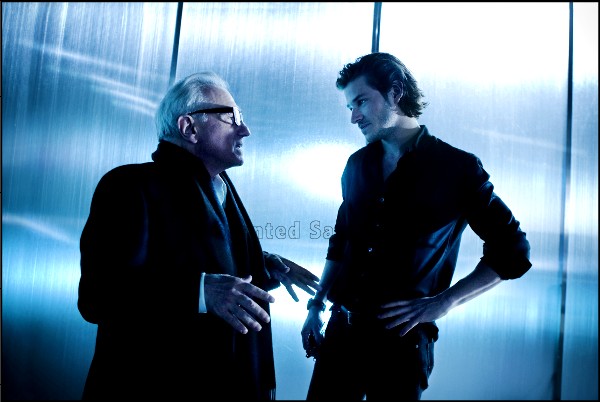 Chanel
have let out further information about their upcoming masculine fragrance after releasing preliminary information in February 2010 which confirmed the participation of
Martin Scorsese
as the director for their new advertising campaign. A picture bathed in blue light from the film shoot and featuring Scorsese conversing with French actor
Gaspard Ulliel
was
one of the official clues at that point, together with less official ones
, courtesy of Dossier Journal.
It's now been confirmed that the next men's fragrance by Chanel is called
Blue
, a name which is a throwback to one of three color-named fragrances that Coco Chanel released together as a trio in 1930 and called Le 1940 Beige, Le 1940 Bleu, Le 1940 Rouge...
Chanel have already released a fragrance in Les Exclusifs collection which not only re-uses the name "
Beige
" but was expressly inspired by Gabrielle Chanel's meditation on the color beige and what it meant to her. It is only speculation at this point to think that perhaps/probably in-house perfumer Jacques Polge who signs the fragrance will also take into account what Chanel herself thought about the color blue.
Blue was certainly seminal in Chanel's approach to couture as she adapted the clothes worn by sea fishermen and sailors to chicissime and simplissime urban fashion. Blue is also the color of the sea that she discovered relatively late in life. Blue was the color of the kings of France. Last but not least, blue is said to be the world's favorite color according to a study based on 13,000 consumers across 17 countries entitled "
Global Market Bias: Part 1- Color,
" as is the case also in France.
To continue elaborating on the color blue and now turning to Scorsese, knowing what a movie-history addict he is and his method of work, we bet Kieslowski's Blue, out of the Blue, White, Red trilogy was on his mind for reference. The Polish director's triptyque is a homage paid to the ideals of the French Revolution and blue symbolises liberty. The movie utilizes an atmospheric blue light.
The
Independent
announces, taking their information from Cosmetic News, that Blue has notes of pink peppercorn, citrus, peppermint, nutmeg, vetiver, grapefruit, cedar, labdanum, jasmine, incense, patchouli, ginger and sandalwood.
While the press release we received in February mentioned a worldwide launch in September 2010, the newest launch date that has been floated around is now August 2010.