Fresh Eat, Pray, Love (2010) {New Perfumes}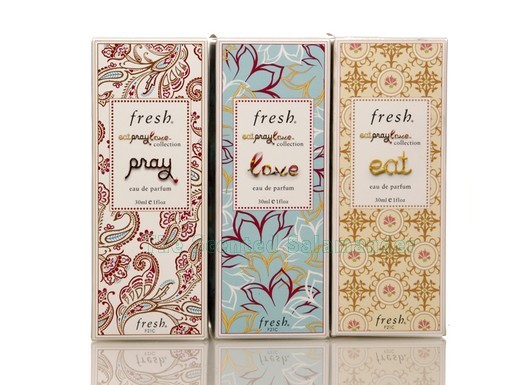 Fresh
will launch their first narrative trio of fragrances called
Eat, Pray, Love
inspired by the best-seller by Elizabeth Gilbert (which I haven't read but first became aware of its existence when I spotted someone reading it on the subway.) The partnership took place with Sony Pictures which are releasing the movie adapted from the book on August 13 starring Julia Roberts. She should be perfect for rendering, with just one of her famous smirks, the nuances of self-satisfaction and self-absorption necessary to pull off the role, from what I know of her acting and judging from the style of the book after a couple of pages.
The goal is to create an experience, not just a product and each scent recreates a different emotion inspired by the words of the book...
"
Eat
has top notes of Italian lemon, basil and bergamot; a heart of plum, red current and rose, and a drydown of caramel, meringue and vanilla.
Pray
has top notes of elemi, pink pepper and juniper berry; middle notes of incense, peony and rose, and a drydown of patchouli, amber and musk.
Love
has top notes of bergamot, red currant and mango blossom; a heart of tiare and dewy jasmine, and a drydown of sandalwood, vetiver and velvet amber.
The outer packaging reprises motifs of the three cultures traversed by the memoir writer: Italy, India, Indonesia.
The perfumes have been priced so as to be more widely accessible and will retail for $32 for a 1-oz. eau de parfum spray. A trio of candles will be also available for $45.
Debut date: July 15th, 2010
Via
WWD