Halle Berry Reveal (2010): Halle to Unveil Another Facet of Herself {New Perfume} {Celebrity Fragrance}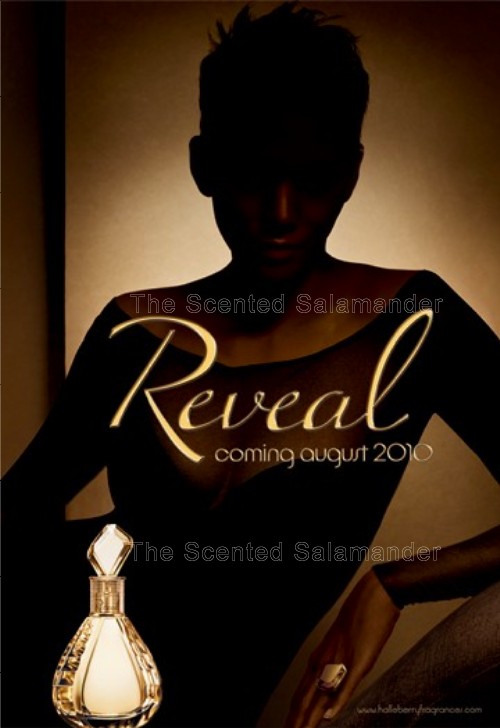 Halle Berry
fragrances are doing so well, that
Coty
and the actress are pairing up again to launch a third perfume this summer called
Reveal
from August and working on a fourth. Her second jus,
Pure Orchid
only launched in January. According to Women's Wear Daily, Pure Orchid was the #1 seller in feminine mass-market scents in January and February, still holding out at #3 in March.
Halle Berry said of her new signature fragrance,
"I had an understanding of a direction I wanted it to go. With each one, the goal is to make them different, yet the same in that it's reflective of who I am. I wanted this one to be a little more floral, but the inspiration was still about keeping it classic and easy." .....

Steve Mormoris of Coty Beauty said,
"In the case of celebrity fragrances, I think they work best when they truly are a creation of the celebrity who has the intrinsic talent for creating, Halle is an actress and a very emotional person -- she loves art and beauty, and she's a great creator." Mormoris added that Berry's fragrances "resonate with the consumer much more than we thought...we are double in size what we thought [we would do with the fragrances.]"

Reveal
was created by
Richard Herpin
of Firmenich and is said to be a woody floral concoction. Mimosa being Halle Berry's favorite flower (she loves L'Artisan Parfumeur Mimosa pour Moi which inspired in part
Halle
, her debut scent), it was inserted as a top note. Iris is also showcased and the actress said she purposefully wanted it to be velvety, soft and airy rather than dark and woody.
Notes are: mimosa, peach, honeydew melon, red berries / plumeria flower, iris blossom and neroli petals / vetiver, cashmere woods and skin musk.
The bottle was designed by
Jane Tarallo
. The advertising campaign will reveal Berry in the situation of being an interviewee speaking about herself in a confessional tone. There is no story line except for the atmosphere of the set and the actress answers the questions as if she were in a real-life interview.
The Oscar-winning Berry is said to looking forward to revealing yet another facet of her personality in an upcoming comedy entitled "Shoe Addicts Anonymous."
Purchasing info: 0.5 oz. for $17 in the U.S. and 16 euros in Europe; 1 oz. for $35 U.S., 24 euros in Europe, and a 1.7 oz. for $35 in the U.S. and 34 euros in Europe. A 6.7 oz. body lotion will retail for $12.50 in the U.S. and 11.50 euros, and a 75-ml. deodorant natural spray, which will be available in Europe only and which will retail for 10 euros.
Via
WWD