Hermès Eau Claire des Merveilles (2010) {New Perfume}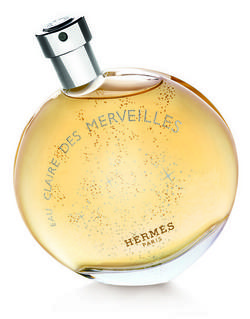 {A
fragrance review of Eau Claire des Merveilles eau parfumée
has been added to the blog!}
Hermès
will launch a new flanker to the original Eau des Merveilles created in 2004 by perfumers Ralf Schwieger et Nathalie Feisthauer. The new composition was baptized
Eau Claire des Merveilles
(Clear Waters of Wonders) and is signed by in-house nose Jean-Claude Ellena.
The tag line for the fragrance is "
Carried away by Hermès
," with the advert showing a woman being lifted up high in the sky from the top of a Parisian building holding onto a sparkling, fiery thread descended from of a giant orange fireworks bouquet...
The ad story thus continues to weave the travel-and-escape tale which was the central one in the story of Voyage d'Hermès but this time by appealing to a more fairy-tale like sense of wonderment.
The new jus is described as being "
cold, vivacious, delicate and sparkling all at the same time.
"
Eau Claire des Merveilles is said to have a gourmand facet and to offer powdery, vanillic and soft notes. There are also floral and woodsy notes: "
A sparkling and tender burst of woody notes
" is the olfactory takeaway the brand proposes.
This is the third re-interpretation of Eau des Merveilles by Jean-Claude Ellena. In 2005, he did a Parfum des Merveilles together with one of the original creators, Ralf Schwieger and in 2006 he composed the Elixir des Merveilles, a more intense and rich version of the original.
The perfume launches from September 2010. Prices: 64€ and 91€ for 50 ml and 100 ml spray bottles.
Source: Relax News