Hermès Eau Claire des Merveilles (2010): Sea Milk and Driftwood {New Perfume} {Fragrance Review}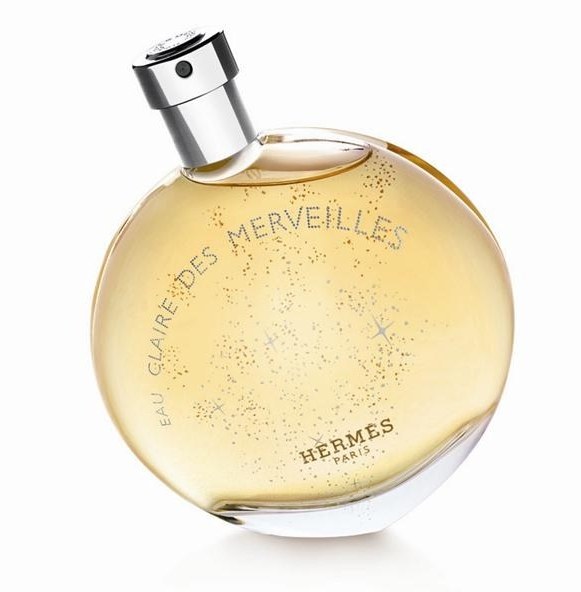 Hermès Eau Claire des Merveilles
Eau Parfumée
is the latest addition to the Eau des Merveilles collection which debuted in 2004 with Eau des Merveilles co-signed by perfumers Ralf Schwieger et Nathalie Feisthauer. Hermès in-house perfumer Jean-Claude Ellena took over from 2005, first with a collaboration with Ralf Schwieger for a Parfum des Merveilles, then in 2006 with Elixir des Merveilles under his sole responsibility. Eau Claire des Merveilles launches in September 2010.
Eau Claire des Merveilles opens on a fresh citrusy note, then a sweet cosmetic powdery iris one and a sweet coca-cola musk note as in Musc Ravageur, but they are all like false lures as soon these are followed by an intensely oily indolic accord, the one I have smelled recently in
Narciso Rodriguez Her Iridescent Fragrance
and
Gucci Guilty
, which seems to be a quasi perfect replica of the way wisteria exhale heavy indoles in the spring and summer. Like for the original Eau des Merveilles which is a composition the perfumers wanted to build "
back to front
" you find in the opening sequences heavier notes than is customary to find in the head notes...
The indolic "wisteria" accord is surprisingly frank, even a bit brutal, bordering on the foul. There is also this aged cottage-cheese nuance one finds in expressively putrid renditions of gardenia. At other times, the composition seems to be more tightly weaving a peppery-creamy-iris-y theme which I think might be closer to the perfumer's intention because it is more consistent with the rest of the composition.
But the perfume soon abates, like a sudden imposition of silence, while keeping this flowery Roquefort nuance which some connoisseurs will appreciate and others will shun. There are traces of clovey carnation, silex, and more to the point, this hot-and-wet-beach-pebble scent nuance one finds characteristically in some marine perfumes like Rem by Réminiscence or
L'Artisan Parfumeur Côte d'Amour
. In Eau Claire des Merveilles, it is very attenuated, in contrast to these two other fragrances, the latter one which is incidentally a work by Jean-Claude Ellena's daughter, Céline Ellena.
It is virtually at this point the only distinctive accord which I am able to logically tie back to the maritime inspiration which is in principle the source of olfactive images for the Eau des Merveilles lineup. The composition so far seemed much more of an abstract exploration of, not even accords, but perfumery materials. There is a study aspect to the scent which is perceptible in that the seams of the work are visible.
As the perfume further develops, I start discerning a more figurative motif within this splash of abstraction. If the borderline foul indoles and milky nuances seemed to arrive from nowhere but the fantastical representations of the author in a seeming unbriddled nod more to the notion of "Merveilles"(marvels) than a seaside-inspired Eau des Merveilles, and while the discreet beachy smell feels like a reluctant "yes" to the conventional marine landscape genre, it finally all comes together in a more discernable and central impression of milky and woody flotsam.
Jean-Claude Ellena uses lactonic, milky notes to gourmand and/or original effect in perfumes like l'Artisan Parfumeur Bois Farine, Hermès Un Jardin Après La Mousson,
Déclaration by Cartier
. It seems to be an inspiring texture and material to him as he manages to transform milky regressive nuances into edgy sensations. This can be felt in particular in
Un Jardin Après La Mousson
and Eau Claire des Merveilles where milk becomes a vector of originality.
The fragrance weaves both
figurative and abstract notes
, as is the style of perfumer Ellena in my own perception (see
Brin de Réglisse
), creating now the tactile and visual impression of a gray-green lustrous and polished piece of driftwood beached on white sand while the milky accord renders the vision somewhat lunar and improbable yet symbolically consistent with the historical and mythological perception of the smell of ambergris.
A natural olfactory facet which could have only contributed to the myth of ambergris in history is that it presents a maternal-milk nuance. Here the perfumer has exaggerated and hence typified that facet, turning it into the whole of the scent of ambergris which loses here its darker connotations and virtually loses its animalic characteristics. Purified, abstracted into fatty and soft woody white milk, it becomes the atmosphere one smells around a sculptural piece of driftwood in an abstract-figurative marine landscape with plenty of empty space around since the scent feels very much focused on the central motif and sensation by this stage.
The structure of the composition is very economical, and a departure from the more elaborate and relatively more symphonic compositions of Eau des Merveilles and Elixir des Merveilles. The word "claire" (clear) in the title of the fragrance refers it seems less to transparency than to paleness: pale woods, pale milk, pale amber. If the perfume eschews the marine conventions of Calone-heavy fragrances, it does not let go of a certain predilection for gourmand notes: milk, nuts, salt, which recall Bois Farine in a sifted form. The French cannot be faulted for not loving food.
The drydown is, again in the manner of Ellena, not a very complex chapter of the fragrance, unlike say another scent poised at the other extreme,
Sycomore by Chanel
. It concludes into a sensual sweetish creamy and woody-driftwood skin scent with a very subtle hint of animality.
People who enjoy the Eau des Merveilles collection will probably be interested by this flanker which makes the effort of being a true variation. There has been a rethink of the ambergris accord, which has been clarified but not in the cologne or aquatic sense one might have perhaps expected. Although this Eau Parfumée was advertised as being
cold and sparkling
, Eau Claire des Merveilles is more like a balmy white vanilla enveloping woods polished by the elements. In keeping with the decomposed-organic nature of ambergris, there is an undercurrent of putridity, one will be able to pick out more or less clearly.
The perfume is subtle, urbane, and quietly and sensually gourmand with a very discreet vacation-by-the-seaside allusion which will be easy to pull off any time of the year, as if your skin couldn't get rid of the pale memory of your holidays on the beach.