Kat Von D Adora (2010): Scent and Makeup Interconnection {New Fragrance} {Celebrity Perfume} {Beauty Notes}
Tattoo artist and TV reality celebrity
Kat Von D
has released her third fragrance following up on
Saint and Sinner
last year. It's called
Adora
and is accompanied by a limited-edition makeup collection comprising
True Romance Eyeshadow Palette - Adora
and
Adora Painted Love Lipstick
.
The colors look a bit dangerous, especially in the eyeshadow pan, and feel like they would be great for Halloween (I know it's a bit early to think about that but that's what came to my mind gazing at the vampy, if not vampirish tints.
About the perfume:
"Adora means "Beloved One" in Latin. For Kat, Adora reflects the next chapter in her personal evolution--an introspective renaissance discovered through deep layers, stories, and scars. She's a romantic soul with an edgy exterior. Adora is a sensual and passionate perfume journey--unexpected and provocative.This scent reveals a stirring glimpse into an enigmatic life...tortured, beautiful, and brutally honest. "....

Notes are: Lychee, Boysenberry, Thyme, Cassis, Hyacinth, Jasmine, Mango Flesh, Patchouli, Sheer Musk, Amber Wood.
I note in passing that hyacinth and mango are two perfume notes that are making a comeback in fragrances this season.
The bottle is inspired by the art of Alfonso Mucha, one of Kat Von D's favorite artists.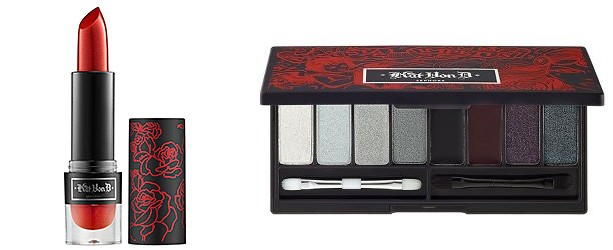 Adora makeup collection reprises the ambiance and "clarifies" the atmosphere of the scent for us by suggestion a world of shadows and dark, Gothic intensity, on the face of it.
The True Romance Eyeshadow Palette - Adora is described thus: "
an
artistic spectrum of shades brings an edgy-glam creativity to your makeup. Adora fuses love and fury--two sides of color reflect two distinct facets of Kat. One side has an assortment of frosty whites and silvers; the other includes a range of sexy black and maroon shades
."
The Adora Painted Love Lipstick is a shimmering candy red apple.
While the makeup items are limited-edition, the fragrance is part of the permanent collection.
Prices: $16 and $55 for the 0.33 fl. oz. rollerball and the 1.7 fl. oz. eau de parfum; $34 for the palette; $18 for the lipstick. All available exclusively at sephora.com