Serge Lutens Tubéreuse Criminelle (1999): The Perfumers Killed the Tuberose {Perfume Review & Musings}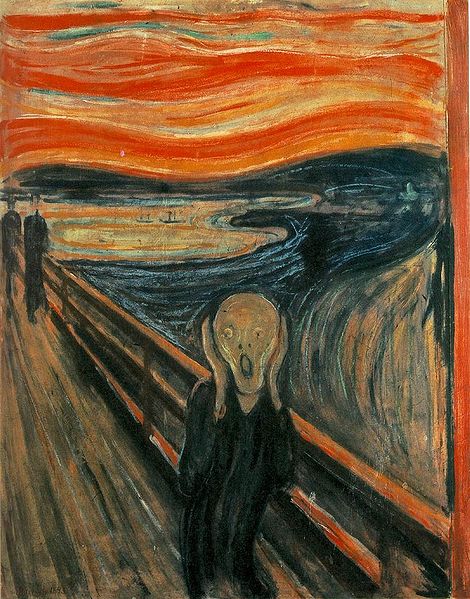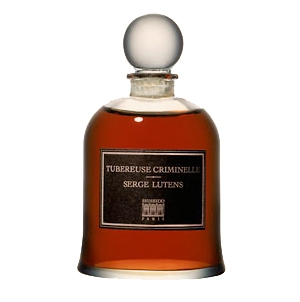 Tubéreuse Crimininelle
(Criminal Tuberose) must be the most medicinal tuberose composition that breathes under the sun. It smells for the first part of its life like a tuberose escaped from a psychiatric ward after having been committed there by a malevolent, evil perfumer who wanted to drown her floral beauty in antiseptic Listerine and shut her out behind closed walls. Serge Lutens together with Christopher Sheldrake seem to weave the tale of a tuberose murder plot where one twin disappears to be replaced by her identical, much tamer one. In perfumery, some notes are reputed to be difficult in a technical sense. Where tuberose is concerned, it would be how to showcase it without it taking over all the other fragrance notes due to its sheer natural heady presence. The solution which was found here seems to have been to have her be subjugated by one of her facets, the one most susceptible to come across as bitchy and cold as she can be: camphor. Both tuberose and camphor have this uncanny gift of being able to suggest stillness and death. Later on, the perfumers tuned down, lobotomized the tuberose to make her more adaptable to the norms of society and the difficulty of creating a narrative tuberose soliflore, not just a rebottled tuberose absolute.
Notes: tuberose, jasmine, orange blossom, hyacinth, styrax, musk, vanilla.
At first, the perfume is like a distortion of the scent of tuberose seen through the eyes of someone who wants to embalm the beautiful, lushious tuberose in cryogenic fluids. Or make her a necklace with moth balls. Or hide her away in a camphor sarcophagus. The nose that created it both hates it (1st part) and loves it (2nd part.) -- maybe just "likes it" on second thoughts as the tuberose seems singularly quiet and gentle after having been seemingly ready to freeze you with a glacial Medusa stare...
One might very well ask oneself if "Tubéreuse Criminelle," is not in fact legible through a whodunnit plot where one has to discover the cuIprit. Is it the tuberose as the onomastics of the title seem to indicate, or the narrators / perfumers who interpreted the tale of tuberose, betraying a murderous impulse towards her? (conveniently set aside the reviewer here because otherwise it becomes too complicated.) Most people who know Tubéreuse Criminelle assume it is the tuberose herself who is the danger and the criminal. But as I smell the perfume and its completely distorted vision of the normalcy of tuberose - it feels like an olfactory version of The Scream by Edward Munch which is conveniently orange for the purpose of this review - I have to wonder whether it is not the minds that created this tuberose who are pushed to murder it due to its smell.
Tubéreuse Criminelle opens on a barrage of cold hospital ward notes. Unless it be the perfume of a sexy and disquieting nurse with an experience of the afterlife. She came back. The tuberose soliflore composition in its initial stages smells of a combination of Red Hots, camphor, rubber, athlete friction balm - think Bengay - and it all lasts a good long while as if the notes could not let go of an obsessive memory of pain and perhaps, pleasure. It could be the memory of having spent one afternoon in your childhood exploring the jars at the back of an old-fashioned apothecary and witnessing something best left buried under the pickled-snake smells.
After some time, the perfume mellows down a bit, taking on more ambery and orangey, rounder nuances, thanks to the orange blossom and honey as well as some heliotrope it seems, while the nose-clearing edge of Vicks-tube continues to offer its riff. The jasmine is rather cool evoking jasmine-scented green tea. Underneath the blast of cold insanity, there is a light marzipan nuance found in other Serge Lutens.The brusque camphoraceous accord in the initial stage is manifestly not meant to convey a sense of classical harmony, but a shock. If it does not actually shock you, it certainly leaves you wondering about the source of the inspiration. From a naturalistic standpoint, it could appear to isolate one naturally-occurring nuance of tuberose, and exaggerate it.
I once thought that Tubéreuse Criminelle could be made out to be an unusual tropical accord: camphor wood paired with tuberose. I defended the idea that when you live in a tropical or equatorial climate, you may encounter these smells in the real world. For instance, this is what you might experience by an open window looking into a garden filled with tuberoses while getting the cool of the air conditioner in the small of your back and the smell of a camphor wood chest in the room. Smelling Tubéreuse Criminelle more attentively, I realize that nothing about it pretends to be natural. She is a made-up beauty with an overdose of
blanc de céruse
on her face - Lutens as a makeup artist and photographer loves very pale, Pierrot-like flour-y women. The lead-based paste is meant to slowly kill her, no doubt. The nature vs. art dynamic is I suppose, what Lutens means when he says "
to sublimate without betraying, to refine without excess; a perfume must retain the imprint of its origin
..." Only excess is precisely here the name of the game.
Behind this apotheosis of medicinal smells - a constant theme in Serge Lutens's work - a heavier, butterier sensation starts peeking through discreetly. And then I am reminded of the very strong impression I got when I first smelled Gianni Versace for women which launched in 1986. Further along, I get the distinct feeling of a lineage. There is a similar heavy-lidded accord of styrax and tuberose. Now the personality of the tuberose becomes more evident, in particular its floral character.
Serge Lutens has a knack for creating statement soliflores. Sa Majesté La Rose I wanted to and did call
Ivan The Terrible
. Iris Silver Mist is also from the same breed of exclusive attention-grabbers.
It is not the only tuberose we have from the house, but it is the only tuberose soliflore. Datura Noir is a tapestry of big florals with tuberose to some extent more classically and easily recognizable within it. Cèdre is a secret woody autumnal tuberose composition hiding behind the cedar.
Tubéreuse Criminelle I find, beyond its punch-in-the-nose effect and its curious schizoid tendencies, is less intriguing in the longer term than one might expect given the atmosphere of disquiet in the beginning. After these mentholated first waves, the tuberose of Tubéreuse Criminelle, when it finally appears, calms down considerably, revealing itself to be on the contrary gentle, almost kittenish, sweetened by honey and vanilla, more orange blossom than tuberose. She came out of the cuckoo's nest on one condition, to have the part of her that exaggerates be removed. It creates a slightly bipolar structure for the perfume, which one may enjoy or not. I tend to get stuck by its soliflore personality which I think does not completely eschew an accusation of over simplicity and one-dimensionality although a woody facet smelling of Teak wood and red lacquer in the drydown is unexpected and appealing. In a certain sense, it is a very simple tuberose who met two complicated noses with a thirst for a story of feminine power, dominance and drama.