The Big Vanilla Trend in Fine Fragrance, Fall 2010 {Trend Alert & Report}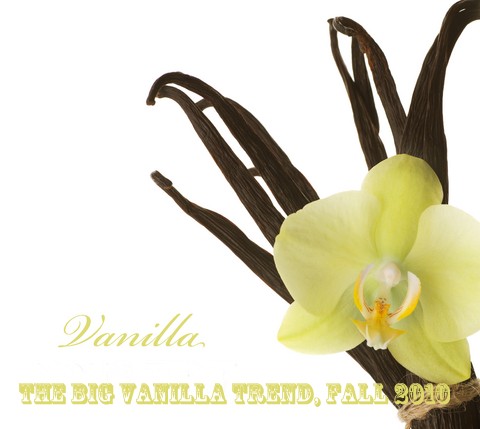 Even if vanilla must be
the most popular smell and flavor worldwide
, it still makes a difference whether or not it is going to be featured in fine perfumery in meaningful compositions which can be considered to be trendsetting. This fall 2010, it will not escape your attention that four major fragrance names and perfumers are issuing each a perfume which is dedicated to the fruit of the tropical orchid. What is even more interesting is that two of these houses are centering their compositions on the idea of a "dual" vanilla and a third one on that of a "triple" vanilla. It's all about more and better vanilla. This is why I see here a big, mean vanilla trend.
So, do you want to be in the know? See what
Guerlain, Yves Rocher, Dior
and
Diptyque
have in common scent-wise this fall...
Guerlain Shalimar Ode à la Vanille
It is not surprise that the house which created Shalimar and took a daring step in the direction of using the aromachemical Vanillin in fine perfumery in the 1920s should want to keep a leading edge when it comes to the material.
Jean-Paul Guerlain
, the current patriarch nose for the house, thinks vanilla is one of the most erotic scents that exist. I can only agree. In 2007, he created an exclusively distributed jus called
Spiritueuse Double Vanille
based on an overdose of the mana which rests on a dark-vanilla interpretation.
In 2010, the house of Guerlain will again tackle vanilla with a special limited-edition of Shalimar called
Shalimar Ode à la Vanille
which is said to be like the original but with even more vanilla and features a dual blend of vanillas. The new perfume is signed by current in-house nose
Thierry Wasser
. The composition includes both a vanilla tincture from Mayotte, where Jean-Paul Guerlain owns perfume plant plantations, and a vanilla absolute from Madagascar.
The bottle of Shalimar is also going to be redesigned by
Jade Jagger
while maintainig its iconic references like the color blue for the topper.
Diptyque Eau Duelle
We already announced
this new fragrance a few weeks ago
. We even have a preview sample of it. I even tested it already. Seeing a harvest of interesting vanillas coming up I am wondering if I should not just wait for the accidental quatuor to be all corralled in?
Like the Guerlain, the Diptyque composition by
Fabrice Pellegrin
, who is also behind the new and upcoming
Womanity by Thierry Mugler
, not to mention a much more confidential yet soulful perfume from Lithuania called
Juozas Statkevicius
, showcases two different types of vanilla.
On its own, this perfume is one of those fragrances which want play up the beauty of the natural ingredients which release themselves slowly overtime. No quick top notes effect here but on the contrary, patience is required to get the full bloom.
Yves Rocher Vanille Noire
This
dark vanilla interpretation
launches first in France this fall 2010 but will of course be super widely distributed in the end due to the reach of the company and their affordable prices. It was created by perfumer
Jacques Cavallier
whose signature is at the bottom of many famous fragrances. The perfume takes the idea of a vanilla-centric composition also but here you will find not just two but three different types of vanillas. The reason behind this kind of blending is because each vanilla comes with different characteristics depending upon the soil and climate it was cultivated in, like wine. And like for vintners, it makes sense for perfumers to blend several vintages to reach a balance that one will find satisfying and interesting.
I also have this scent as a preview sample but have yet to test it!
Dior Hypnotic Poison Eau SensuelleFrançois Demachy
is reinterpreting an already vanilla-rich perfume by accentuating this side of its personality, thanks to
a new orchid note
, which seems to be able to add both floral and vanillic facets to the new composition.
In conclusion, ladies and gentlemen, it looks like vanilla will be one of the star ingredients this fall. Let us know what you think and what are your favorite vanillas! What kind of vanilla perfume do you think is missing from the market? And related to this topic, how many weeks or days before a launch do you think is ideal to read a review of a new perfume? Do you prefer to read a review of a new scent only when it's out and you can purchase it easily?
Guerlain info source:
Primrose at Basenotes