Ambergris Exhibited in Japanese Museum {Scented Paths & Fragrant Addresses}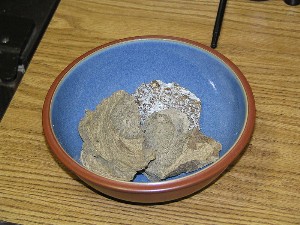 Rare enough to be displayed in a museum, this is what the
National Museum of Nature and Science in Tokyo thought when they discovered a piece of ambergris dating to the 1970s
in their reserves
. The exhibition, which has a focus on sea mammals, runs until September 26
, 2010.
Head perfumer of
Kanebo Cosmetics
Ryoichi Komaki
was called upon to help extract the scent...
"The Chinese call it "long yan siang" or the fragrance of a dragon's saliva.

"It smells a little bit like turpentine. Otherwise, it's difficult to describe," said one Japanese man after taking a sniff.

"It stays in my nose, and smells like a tree," said one Japanese woman."

You can read the full article and watch a video
here
.
I particularly loved the passage above where the differing takes on the scent of ambergris reveal its complexity and/ or the challenge it is to describe scents.
I was personally also struck by the many facets of the substance as stated in this
olfactory report on ambergris
back in 2008 around Balmain Ambre Gris.
Image: Wikimedia Commons