Houbigant Quelques Fleurs (1912 / 2009): 3 Stages of its Existence {Perfume Review & Musings}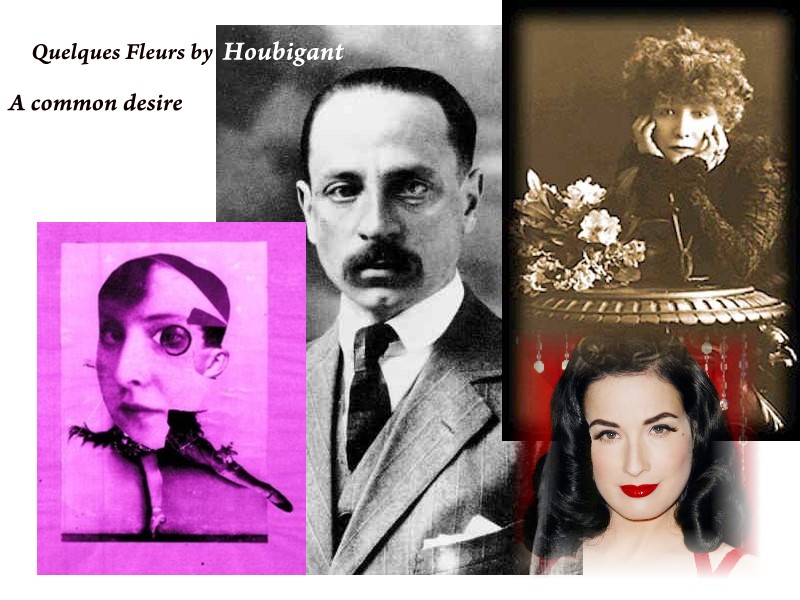 The history of
Quelques Fleurs
(1912) by
Houbigant
Est. 1775, is so compelling and interconnected with that of other significant perfumes that it is today a reminder to me of why I do not review those deep historical fragrances more often: they reveal so many ramifications and further pockets of shadows to shed light on, that it is difficult to contain all the information and questions within one article. It is probably actually laughable to try to do so. In fragrance anthologies, and for some reason, Quelques Fleurs is often overlooked as preference is usually given to L'Heure Bleue by Guerlain when proposing a canon of classics for and around the year 1912.
I had therefore to simplify and decided to offer three short comparative reviews of three versions of Quelques Fleurs which I have available at hand and make them be preceded by a general historical summary.
This is a project which was triggered by the reception of the most recent version of the perfume, a recreation entrusted to fragrance expert and unflagging defender of the great classics, Roja Dove of Haute Parfumerie at Harrods. He worked in collaboration with the Perris family who are now the proprietors to the rights to Houbigant fragrances as their grand-father had ties with the original Houbigant family, we were told. The re-worked jus was re-introduced in 2009, the last one in a series of relaunches and tribulations in the course of its existence. Again, for some reason, Quelques Fleurs does not merit a separate treatment even in the book signed by Dove,
The Essence of Perfume
.
Quelques Fleurs is an early floral aldehydic perfume which inspired in particular the creation of Chanel No.5 in 1921, with a detour for Ernest Beaux the nose of No.5, via Le Bouquet de Catherine (1913) which was meant for the Russian market.
I happen to have at my disposal the version which was reintroduced in 1985 as "Quelques Fleurs l'Original."
The Neiman Marcus site, which also sells the Quelques Fleurs Royale version, states about the 2009 version that,
"The true Quelques Fleurs formula has never been published. An ancient formula still kept in the family archives, this fragrance will never be duplicated. The blend of soft, sensual florals uses over 250 different raw materials and more than 15,000 flowers to create just one ounce of Quelques Fleurs eau de parfum."...

I also have as well a pre-1985 formulation, it seems, which certainly feels different enough and even more old-school to my nose.
It is well-nigh impossible to know what the original formulation smelled exactly like, but we can certainly try to understand the personality of the fragrance and the impact it had on the perceptions of people in the earlier stages of its career.
When Quelques Fleurs was introduced in 1912, we can gather that it was perceived as being a turning point through three main aspects: 1) it featured a multifloral bouquet in a context where soliflores were still fashionable despite the fact that the house of Houbigant had spear-headed the taste for more complex, structured floral blends mixing bony aromachemicals and fleshy naturals in Le Parfum Idéal created by Paul Parquet in 1900; 2) while it is usually thought that the No.5 is the original aldehydic opus at the dawn of the 20th century, it is not so; it was rather the amplified use of the aldehydes in the latter, which were overdosed (among other things), which made it stand out.
Quelques Fleurs thus created an Art Nouveau feel rather than a bold modernistic tonality with its use of aldehydes before the No. 5. It was not the first scent either to do so as it followed another successful early aldehydic fragrance, Pompeïa by L.T. Piver (1907).
3) Thirdly, Quelques Fleurs was trendsetting also in the way it would beat open the path to lighter perfumes, an effect resting on its use for the first time of the aromachemical Hydroxicitronellal, a fresh muguet/lily of the valley note, which would become imprinted on the olfactory psyche of the French in the 20th century in particular with Diorissimo, a celebratory lily-of-the-valley day perfume.
Quelques Fleurs is considered by veteran perfumers as both an early floral bouquet, an early aldehydic perfume but also at the same time and at the core as being a closeted lilac soliflore composition like there can be a closet rose soliflore (see
Chloé Eau de Parfum
).
I was personally also struck by the kitchen-cupboard tarragon note in it, especially discernable in the 1985 version and wonder if it was there from the very beginning. It is an element which gives the perfume a particular inflection but also appears as yet another example of its unprejudiced outlook, or perhaps simply put of its inspired approach. It could be seen to be an original inspiration for the jasmine-tarragon accord found in
La fuite des heures
(Fleeting Moment) by Balenciaga done by Germaine Cellier, which I thought of when I smelled the 1985 edition in particular.
The fact that the Dadaist Hannah Höch (1889 -1978) (see picture above) had made it one of her favorite fragrances invites you to think that it was perceived early on as not just another pretty perfume as its image and name may lure us into thinking. Sarah Bernhardt was also a famous wearer of it. If we add the fact that the poet Rainer Maria Rilke loved Quelques Fleurs as well, which he used in the soap and lotion versions, then one might get a sense that there was something less than conformist about Quelques Fleurs. In one of Aragon's novels, a masculine character is also made to wear Quelques Fleurs after shaving pointing to the gender-neutral stance of the perfume.
The more I smell the Roja Dove version, the more I feel captivated by it. A good sign is that I had to negotiate my relationship with the perfume before giving up all resistance. This is really one of those fragrances that gain in being better known in order for us to appreciate them even more. It is in many ways an intellectual composition despite the fact that its language is carnal and sweet, especially in the 2009 version.
Houbigant Quelques Fleurs Eau de Parfum (2009)
Notes: Bergamot, lemon / rose, tuberose, carnation, ylang ylang, orange blossom, jasmine / sandalwood, tonka bean, amber, orris, musk.
The fragrance opens on a wonderfully fresh aldehydic opening quickly followed by heaving and sighing florals with a club-like-hit effect on the head due to the amount of indoles, synthetic civet and honey, all latter three nuances mixing to reveal the typical undies accord of Gallic perfumery, with more than a suggestion of erotically dosed sweat. The sensation of carnality is curiously, both strong and linear, reinforcing a certain feeling of primitivism underneath the basket-of-flowers motif. I can see how one could analyze the fragrance as having been developed on a soliflore pivot. The lilac note is noticeable once you pay attention to it, but not that prominent; it is after all a multifloral bouquet too. Perfumer Robert Bienaimé actually worked on a lilac soliflore for Houbigant.
Incidentally the original name and emblem of the Houbigant shop 19, rue du Faubourg Saint Honoré was
La corbeille de fleurs
(The Basket of Flowers), a motif which might have inspired both Paul Parquet and Robert Bienaimé to think of variegated floral compositions in keeping with the original symbol of the house.
The drydown is a bit candied and feels a bit snuffed out on an initial try. The composition is not as deep and complex as one might have expected at first. These qualms are taken care of when the longer drydown reveals itself to be rich, characteristic, and truly enjoyable leading you little by little, as in a true movement of seduction, to make you think that you could bathe in it. The fragrance nevertheless has something of a late-bloomer aspect to it at first.
The perfume is muskier than L'Original from 1985. Both the 1985 and 2009 versions offer a typical, slightly incongruous fruity note in the drydown where you usually do not expect such a tonality to develop suddenly there. In the 1985 version, it smells of ashy, smoky peaches near an ashtray and long cigarette holder (the carnation is stronger, almost metallic), in the 2009 version, it smells of honeyed and peppery peaches and vanilla negligently left on warm feminine panties (more tonka bean and musk.)
The version re-designed by Roja Dove is sweeter, more honeyed while making sure to develop a naughty-babe signature as if to illustrate the expression "honey trap."
It is a stereotype, but the composition with both its sensual and tailored-feel makes me think of yet another expression: a lady in the drawing-room and a whore in bed.
Practical tip: don't judge it on the run in store if you can. This fragrance really requires to be domesticated and reapplied to work its magic. Signature fragrances were after all meant to be worn around the clock and live in symbiosis with your natural musk.
Houbigant Quelques Fleurs l'Original (1985)Notes*: Greens, bergamot, orange blossom, lemon, tarragon / rose, jasmine, tuberose, lily of the valley, ylang-ylang, carnation, heliotrope, orchid, orris / sandalwood, oakmoss, amber, musk, tonka bean, civet.
This 1985 version is much more animalic and leathery with a subtle hay note which introduces a very soft sensation in the midst of a character perfume. Like the 2009 version it is rather linear in structure, opening like a bold statement, then relenting a bit, smiling softly and then settling into a cruising rhythm where pepper, aldehydes and raw, raspy indoles mingle with a civilized attitude. It has that mustard-y raw edge that one can appreciate in some perfumes. the scent takes on an anisic - woody personality which reminds me of
La fuite des heures
by Balenciaga and of a woody-ambery base smelled in vintage fragrances like Shocking by Schiaparelli.
It feels more old-school than the 2009 version in particular in the accent it puts on woods and the lack of tenacity.
Houbigant Quelques Fleurs pre-1985 (Vintage)
This non-dated but seemingly still older version is fattier, deeper, more characteristically powdery (baby powder) with the aldehydes smelling even more like candle wax. There is again this typical ambery vintage base. It is conspicuously lacking in staying power, which may be due to age and/or downmarket debasing.
The composition burns its way to the base notes much more quickly (the top notes would have faded as well) and when it arrives there, it is not as enduring as one would expect according to contemporary standards. The perfume vanishes in a discreet suggestion of powder.
Thinking of another perfume signed by Robert Bienaimé, it corresponds to my nose more to the name of another one of his opuses, Un Peu d'Ambre (A Bit of Amber.) For quick comparison I pull out a vintage formulation of Shocking by Schiaparelli and encounter the same issue: quick trail-blazing to the base notes, due in part to age and in part to older, less sophisticated materials.
The 2009 edition under the aegis of Roja Dove is a more luminous rendition of the same fragrance. All three versions resemble each other but with differing nuances. It may be and it is in fact inescapably so a 21st century interpretation of a Belle Epoque classic. It does seem to translate the concept of "light" in a more contemporary sense. What was considered "light" in 1912 may have been very different from what people used to light smells and foods expect today.
One thing is certain is that the more recent version is a vast improvement over its forebears in terms of staying power and stability of structure. Quelques Fleurs l'Original of 2009 envelops you in a luminous, golden feline veil (the civet nuance is there) and reminds you - here is another historical twist - of the new luminosity of a descendant of a descendant of Quelques Fleurs, No.5 Eau Première.
Note* cf. Jan Moran in
Fabulous Fragrances
who dates the relaunch to 1987 but primary sources show the relaunch took place in 1985 already.