Jennifer Aniston EDP (2010): Remake Made in Hollywood {Perfume Review & Musings} {Celebrity Fragrance}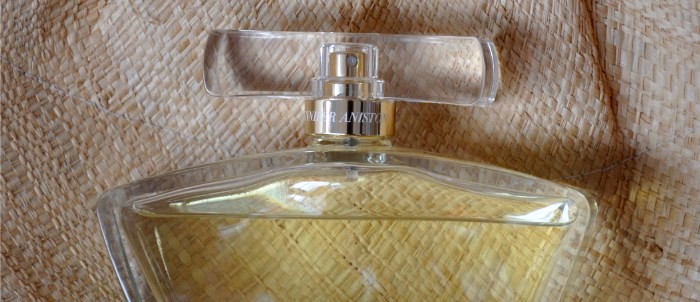 If you don't have the time to peruse a long review, there's
a short, more practical Lifestyle-oriented version of it here
.
Jennifer Aniston Eau de Parfum has been one of the most anticipated celebrity perfumes by the internet in part due to tabloid-worthy material regarding her personal life around the Brangelina axis of attention as well as her own,
rapid fluctuations
and speculations surrounding the name of her debut perfume and finally, the preview tagline coined by Aniston herself who gave the new fragrance as being "
a nonperfume perfume
." Mmmm, interesting.
As an observer of the perfume scene, one can only be struck in the case of this launch with the constant discrepancy appearing between discourse and actual juice as if Jennifer Aniston had had time to change her mind 50 times before finally settling on the opposite of what she claimed she would do. Thus the quirky, inscrutable "Lolavie" is replaced by the much more sedate and self-evident "Jennifer Aniston eau de parfum" and the "nonperfume perfume", it turns out, seems to be laughing somewhat at its own description. Even the official description of the fragrance is rather misleading, calling attention to the chasm existing between the copy writer's and the perfumer's languages. In the end though, Aniston apparently wholly embraces the result, saying '...
it's turned out to be an extension of myself as opposed to slapping my name on something
."
JF EDP could get our prize for most confusing, complicated and discrepant fragrance launch so far this year. Even Aniston's own descriptions of the perfume culled from a Women's Wear Daily interview at the time the perfume was announced as Lolavie are like hearing someone talk past the composition: "
floral, but not too flowery
," and "..
most of all I wanted it to smell natural
" and "
I am not a big perfume-y fragrance fan
" are not exactly what comes to mind when smelling the perfume -- well, perhaps the first descriptor is still defensible, but the second and third ones, hardly.
Notes: citrus grove accord, rose water / night blooming jasmine, wild violets, Amazon lily / sensual musk, golden amber, sandalwood
....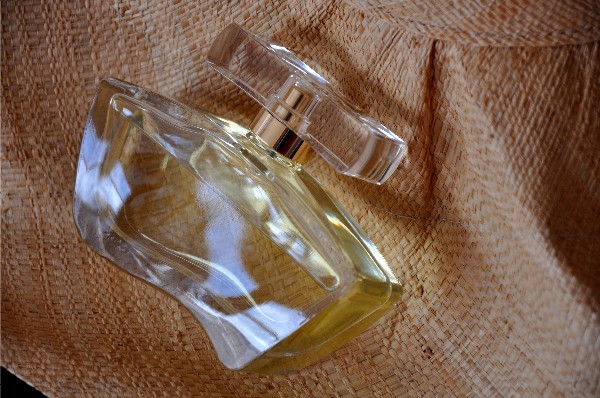 The perfume opens on a pronounced yet delicate note of lightly indolic jasmine (Cestrum Nocturnum here) with that nuance of gasoline exhaust appreciated by connoisseurs of the flower, which is perhaps like the equivalent of a spicy mustard rush for a foodie. It is meant to be the olfactory imprint of Aniston's memories of childhood vacations in Greece.
Night Blooming Jasmine, as I know it from France, is a bit more powerful, breathy and basely animalic in reality, but its personality was preserved while a tad more sweetness added. The main floral accord is further sculptured by a musky nuance between clean and dirty as well as light, floating cloud-like vague perfume-y sensations which add a definite touch of sophistication to Jennifer Aniston's debut fragrance from the onset.
It is not after all the "non-perfume" one might have expected after Aniston publicly confessed her non-taste for all things too artificially scented. In yet another twist alongside the zig-zags of name-changes for her fragrance, the eau de parfum is not exactly where you expected it to be, but somehow on the opposite end of it. While Aniston claimed, "
I am not a big perfume-y fragrance fan
," her signature perfume is actually definitely on the side of perfume-y.
In fact, the irony becomes quite palpable after a while when you realize that the perfume evokes more and more unambiguously one of the most glorious ancestors in the lineage of both "perfume-y" and abstract perfumes: Chanel No.5. If there is a historical reference which defines the strange, tautological concept of "perfume-y", it is No.5 and its mysterious, mathematically abstract formula of aldehydes. This fact-finding-mission-inside-the-bottle brings a whole other meaning to the expression "non-perfume" which arguably No.5 was as well in 1921 for we know that to a large extent,
Coco Chanel wanted a non-perfume for her times
, going against the grain of totemic florals for women: she is a tuberose, I am a jasmine, you are a violet and my name is rose.
The aldehydes in Jennifer Aniston are very soft and suave mostly, with just a suggestion of the raw motor power that they can usually convey, as if they had been marked for life by the manner in which they were encrypted by nose Ernest Beaux after the Russian Revolution, the clangs of Constructivism and as influenced by their era of birth, the Roaring Twenties. Aldehydes have been able to roar and rev up ever since then. But lately, they have been tamed and sweetened as in
Iris Poudre by Pierre Bourdon for Frédéric Malle
.
The lineage to No.5's own Belle Epoque inspiration and ancestor, Quelques Fleurs by Houbigant, is also perceptible in the style of the floral bouquet profiling itself behind the aldehydic notes. Here we can understand better what Aniston meant by "floral but not too flowery" as the floral bouquet tends towards abstraction thanks to the fabricated scent of aldehydes. Kindly set aside the "fruity-floral" descriptor, it is consistently an aldehydic floral. One can be reminded of yet another aldehydic perfume for the touch of green and sweet that subtly surfaces, Ma Griffe by Carven, while the grassy galbanum accords of Vent Vert by Balmain and No.19 by Chanel are also alluded to.
Doing a personality reading of the composition which bears Jennifer Aniston's signature on the ring of the bottle is to come away with the impression one uncovered the conservative tastes of a woman who ignored herself to be such preferring to be associated openly with the myth of the blond Californian next-door girl whose natural habitat is the beach, pebbles, sand and surf. If you wanted to imagine the perfume worn by a Republican from the South with an official government function, it probably wouldn't smell very different.
The more laid-back, sun-bleached hair beach-y style reference is more discernable in the presence of a lightened drydown which takes the classic, iconic aldehydic reference to knead it into pale, transparent and sun-kissed effect. But this is no California perfume oil à la
Kai
or Monyette.
Aniston eschews the contemporary Hollywood-set taste for homegrown clean scents preferably bottled in roll-ons translating memories of exotic weddings in Hawaï. The composition is rather an adaptation of grand old 20th century European perfumery tradition to a simpler, sunnier, and in the end, more understated grammar. The long drydown is finally a bit more evocative of the mineral scent of a beach but it is never a focus, except in the ads.
Given the Hollywood context, it is tempting to see in Jennifer Aniston eau de parfum the embodiment to some extent of a common cultural practice of the US movie industry, which is to offer remakes of European blockbusters (rather than to dare offer it as is with subtitles) to an audience which is deemed too attached to its comfort zone to make any linguistic and face-recognition efforts. In this case, Gabrielle Chanel is played by Jennifer Aniston and the original scenarios of Houbigant Quelques Fleurs and Chanel No.5 are paid homage to while being lightened up and made cleaner, whiter, blonder and more citrusy.
Coco Chanel would have probably fulminated over the fact she was once more copied without earning any dividends out of the deal but she would not have felt as mad as she did when No.5 was once upon a time cheapened during WWII America and she got into another one of her famous rows with the Wertheimer family who had exiled themselves temporarily in the US.
The brand image of Chanel No.5 is so strong that I wonder little about the possibility that it will suffer from this oblique competition although I would be tempted to see in it a smoother version of the No.5 as it is sold in the USA, which tends to smell harsher than the European version due to the different alcohols used. Indeed if there is a perfume that one purchases for its cachet outside of its scent proper, it is the No.5., again illustrating yet another meaning that one can add to the notion of "non-perfume."
Jennifer Aniston edp is not exactly like the No.5, but close. It is a twist and an homage to couch it in diplomatic terms, or a remake to translate it into Hollywood lingo. As we know, Hollywood is a manufacturer of illusions. Is it that surprising therefore that JF EDP ends up personifying some of these disconcerting mirror-effect values?
One other thing that Coco Chanel would have been able to understand about this launch is how closely it resembles the last, desperate ditch effort that a couturier running after her model while still pinning on a sleeve feels just before the curtains open to let her latest creation be revealed on the catwalk. In this way, it does smell natural.