Lolavie is Out, Jennifer Aniston is In: Name-Change Shocker, or Not {Fragrance News} {New Perfume} {Celebrity Scent}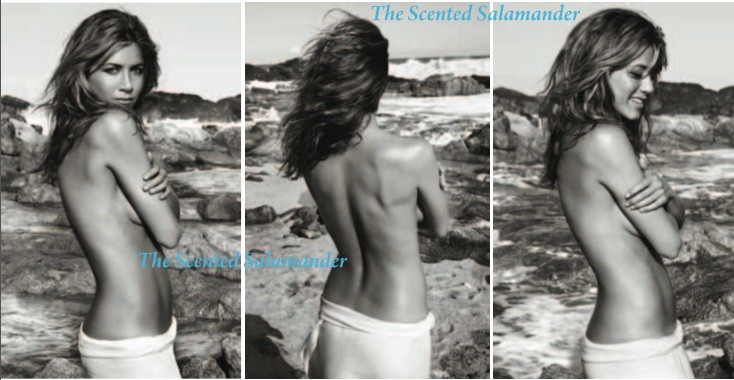 In interesting - no, wait, make that earth-shattering fragrance-onomastics news, we learn through the press office of Harrods of London that the new perfume by Jennifer Aniston
to launch tomorrow at the department store
is not called Lolavie anymore but simply
Jennifer Aniston
.
If you care to remember, there had been prolonged media coverage of the name of the fragrance which started by being floated as maybe going to be "Aniston" then went on to be
Lola Vie
, then
Lolavie
(we're simplifying.) Was this all a big Jen joke on us? Fortunately, because suddenly I am feeling a bit like "did this really happen or did I just dream it?" there is still
a visual of the fragrance on the blog with the name "Lovavie" emblazoned across it
...
The new fragrance bottle is now empty of lettering. This change may explain why the launch was delayed. We can only speculate that the fragrance marketing teams decided the idea of the name was cute but would be constant fodder for psychoanalysts, bloggers and tabloids. In the UK, the latter are famously fierce. They would have probably gone diving in her trash bins to see if they could dig out a reasonable explanation for the name "Lolavie."
This morning I got the full press release (just wanted to make sure it wans'nt a misunderstanding or a hoax), so read on for more information about the new eponymous Jennifer Aniston perfume.
Jennifer Aniston, it turns out, showcases Night Blooming Jasmine. The actress explained,
"I wanted this fragrance to be a personal library of scent memories. For example, my love of night
blooming jasmine has lasted a lifetime. Growing up in California, I distinctly remember the scent of
the jasmine on summer evenings," comments Jennifer.
Aniston was also inspired by the beaches of Greece where she traveled to in her childhood as well of course as by California beaches and in general she expresses a deep appreciation for the ocean.
The fragrance opens on top notes described as a citrus grove accord, rose water. The jus segues into a heart of blooming jasmine, wild violets, Amazon lily. The base notes rest on sensual musk, golden amber, sandalwood.
For those who can attend the Harrods event tomorrow, bottles will be available for purchase from 10 am in Way In on the 4th floor at "several promotional sites," "ready for Jennifer to sign" (Via Twitter)
Via Harrods press release