Yankee Candle Midsummer's Night...for Men {Shopping Tip of the Day}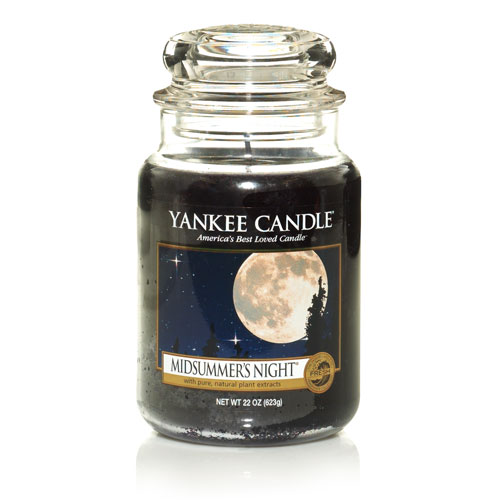 Yankee Candle
have released a series of new scents for their 2010 fall collection of candles (I'll have to check the new Mountain Lodge, I'm afraid). But before we get ahead of ourselves, I thought it would be good to call attention to the appropriate scent for the moment,
Midsummer's Night
.
According to the brand, the middle of summer smells of musk, patchouli, sage and mahogany cologne.
What I thought is a bit intriguing is that it's apparently marketed as a home candle designed for masculine tastes. Midsummer Night... only for men? Yes, indeed...
The scent is described as an "intoxicating and masculine blend." It's perfect therefore for a bachelor pad or a masculine-feeling day in a family house.The next day you can go back to "roses rule."
While generally speaking candle makers do not stick gender labels onto perfumed candles, I have to say that I did stop and wonder some time ago about whether I should opt for a teak wood ambiance or a more feminine powdery one. It completely changes the atmosphere of a room from men's club to plush boudoir. I love the scent of teak wood, but then, I can see how a room might smell more masculine or feminine, just like for a personal scent. It's all about social conventions and cultural codes admittedly, but then so is language and we do have to accept some basic rules to communicate, right?
And then there is the interesting question of neutral-gender smells, like say, grass. Grass is for everyone. If you tried to sell a grass-scented candle for men, you'd probably have to throw in some dirt and a specific musk to be convincingly associated with a believable masculine world like that of a sports field.
The candle range is currently on special.