Yardley You're the Fire Summer Nights (2010) {New Perfume)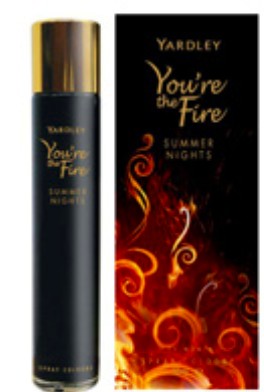 Yardley of London
released in the beginning of 2010 a new flanker to their classic You're the Fire (1973) called
You're the Fire Summer Nights
. It appears to be exclusive to the South African market where the original You're the Fire is still commonly sold while it is a vintage rarity in the USA (talk about some time warp.)
"The House of Yardley is proud to introduce an upgraded version of the old favourite; Yardley You're the Fire. Introducing Yardley You're the Fire Summer Nights; this new romantic fragrance by Yardley will help you escape the realities of life to some far off exotic destination."...

"Yardley's new You're the Fire Summer Nights is for the soft, feminine and ultimate romantic woman. She is a strong and independent woman and loves to be seduced by the romance of exotic destinations and fiery sunsets.
This romantic fragrance is made up of top notes such as Lemon, Peony, Litchi as well as Orange. The middle notes include Pink Pepper, Rose, Freesia as well as Jasmine. Finally, the scent is rounded with base notes such as Patchouli, Vetyver, Vanilla and a touch of Caramel."
You're the Fire was reported by Michael Edwards in
Perfume Legends
, as told to him by industry professionals, to have been a direct source of inspiration for Opium by Yves Saint Laurent, brought to market four years later.
Via
Yardley