John Galliano Parlez-Moi d'Amour (2010): Write me a Love Letter {New Fragrance} {Celebrity Perfume}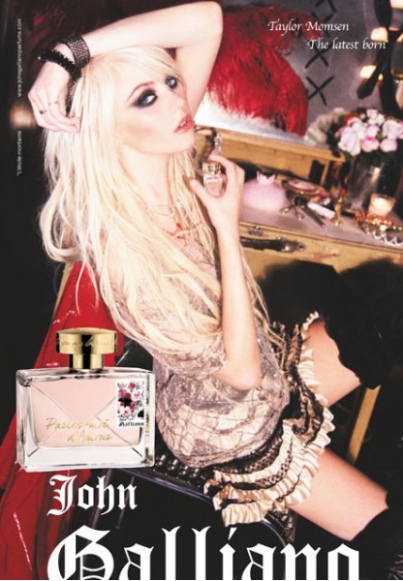 Following up on the news of the launch
of
John Galliano Parlez-Moi d'Amour
, here is more information about the jus itself and the ideas behind its conception.
Created by perfumer
Aliénor Massenet
of
IFF
,
Parlez-Moi d'Amour
(Talk to Me about Love) aims not only to be a wink in the direction of
La Môme
Piaf's eponymous song, but also to be a reference to a forgotten genre, the love letter written with ink on paper, in an era when the Gen Y members prefer to communicate via SMS, email and Skype. The new scent primarily targets young women aged 16 to 25 years old.
The eau de toilette, to satisfy Galliano, had to be romantic, glamorous, rock 'n roll, classic, young and sparkling all at the same time, to reflect its muse, 17-year old singer and Gossip-Girl actress
Taylor Momsen
...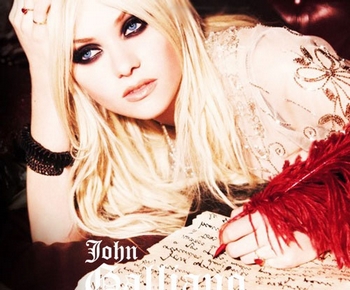 Looking at the plush red quill held by Momsen on the advertising, you now understand better why Galliano wanted the launch to take place at restaurant Lapérouse, which is located inside the building of a former 18th century private town house built in 1766.
For nose Massenet, there was no hesitation. Rose, the classic symbol of love, had to be at the center of the new composition.
The fragrance is said to balance out notes of
Turkish rose essences,
musk, Indian Jasmine
Sambac, ginger, blueberry
for a gourmand touch,
Indonesian patchouli
and
cypress absolute
. The latter is seen as the rock 'n roll, edgy note in the scent adding a strong and substantive woodsy tonality to the ensemble. A source reports that cypress absolute was used here to replace oakmoss and to pull the scent in the direction of a modern musky floral contrasting it with an old-school chypre resting on an oakmoss note. The latter material has been heavily regulated by IFRA forcing perfumers to find alternatives to replace its anchoring, foresty impact.
People who will want to experience the fragrance will be interested to know that the perfumer calls the cypress note in it the "absolute secret" of the composition while confessing at the same time that she has been playing with the material quite a lot lately.
According to Paris Match, the scent is fruity, sweet and strong, offering a perceptible dual character.
Via
Paris Match
/
Parfums Tendance